Image by Hill's Pet Nutrition / Contributor
July 13, 2023
As pet parents, we've all been there… Our dog gives us extra-shiny puppy eyes or our cat is decidedly snuggly, and the treats start flowing. Or maybe our work schedule ramps up and our four-legged friend doesn't get enough playtime. These things happen, but can also result in our pet gaining a few extra pounds—and that matters more than you might think.
When our dogs and cats gain weight, it usually happens gradually—meaning it might go by unnoticed. One extra treat or one less walk may not seem like a big deal, but being 10% overweight can greatly increase the risk of our dog developing serious health conditions. And even one extra pound can impact our cat's health. 
Your pet's happiest life. 
We're big believers that knowledge is power. The more we know about our pets, the more easily we can cultivate their best lives—and that means knowing the ins-and-outs of weight maintenance. From signs of excess weight, to creative forms of exercise, to science-led nutrition from Hill's Science Diet, consider this your streamlined guide for supporting your pet's healthy weight and lifestyle. When our pet is living their happiest life, we are too! So let's dive in.
Why does weight matter so much? 
A few extra pounds may sound like NBD, but can greatly impact your pet's quality of life. When pups are 10% overweight, they're at a much greater risk for serious health conditions such as diabetes mellitus, arthritis, bladder stones, or heart disease. Overweight cats also have an increased risk of developing these serious health conditions. Long story short, a healthy weight helps make your pet's life a joyful one (cue the purrs and tail-wags).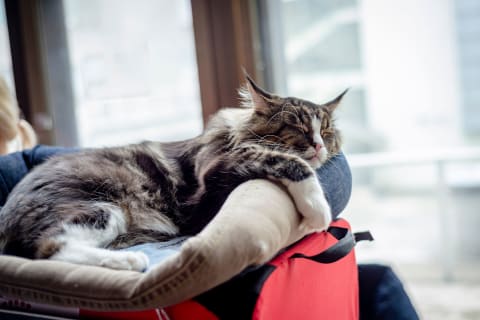 Image by Hill's Pet Nutrition / Contributor
Advertisement
This ad is displayed using third party content and we do not control its accessibility features.
Signs that your pet might be overweight.
Is my cat overweight, or just extra furry right now? Is it normal for my dog to be out of breath like that? If you're a pet parent, chances are you've asked yourself these questions. Weight gain is infamously tough to detect, especially across different breeds and body types. While only your veterinarian can say for sure, there are signs you can look out for:
The loss of an obvious waist
Their collar needs loosening
Movement has slowed down
Shortness of breath
Bad temper 
Advertisement
This ad is displayed using third party content and we do not control its accessibility features.
But here's another tool for your pet parenting repertoire. Hill's Pet Nutrition online L.O.V.E. test can help you understand your cat or dog's current body shape and your feeding behavior. This is not a vet assessment, if you have concerns about your pet's weight, we recommend talking to your vet.
Enter: science-backed nutrition.
We love our pets, and sometimes that leads to overindulging in treats or table scraps. You're not alone, but when it comes to weight maintenance, nutrition is #1. Just like you, your pet deserves precise nutrition that's backed by science—and that's where Hill's Science Diet comes in. More specifically, the Adult Perfect Weight Cat Food and Dog Food provide breakthrough nutrition for weight maintenance. They're both made with natural ingredients with added vitamins, minerals and amino acids for that paw-of-approval. Perfect Weight provides nutrition for safe and effective weight loss visible within 10 weeks.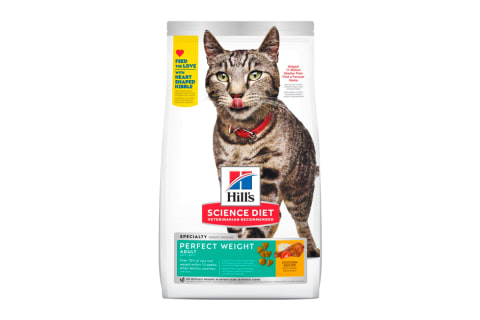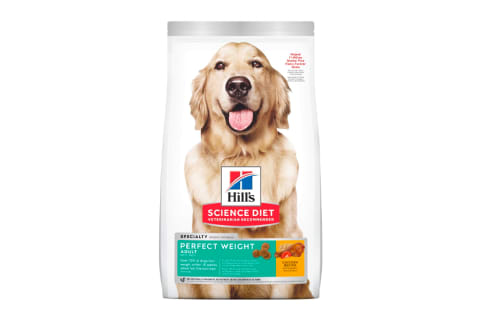 Need a weight maintenance plan? Start here.
Our pets need nutrition, exercise, and love (not so different from humans!), but it's important to remember that each pet has different needs. "Your veterinarian is best able to guide you toward the right approach for managing your pet's weight to help ensure you have as many happy, healthy years together as possible," says Dr. Karen Shenoy, Chief Veterinary Officer at Hill's Pet Nutrition US.
Whether your pet is overweight or you're staying proactive, all pet parents benefit from a weight maintenance plan that balances nutrition, exercise, and regular check-ups at the vet. For precise nutrition, you can count on Hill's Science Diet. From there, regular exercise is of the essence. Get your dog's heart rate up (and your steps in) with daily walks, runs, or a swim. Use their favorite toys for fetch and tug-of-war. And for the cat who'd rather be dozing in the sun? Find engaging toys that will get them darting around the living room (nothing beats a white light on the wall). If they're up for it, try a cat harness and go for a walk.
Advertisement
This ad is displayed using third party content and we do not control its accessibility features.