Beauty & Health Editor
Beauty & Health Editor
Jamie Schneider is the Beauty & Wellness Editor at mindbodygreen. She has a B.A. in Organizational Studies and English from the University of Michigan, and her work has appeared in Coveteur, The Chill Times, and Wyld Skincare.
Image by Marianna Hewitt x mbg Creative
July 11, 2023
Our editors have independently chosen the products listed on this page. If you purchase something mentioned in this article, we may
Beauty routines are never truly stagnant—practices evolve and change like we do. In As of Late, we chat with influential folks about their current products and rituals. Here, we get a snapshot of what they're doing right now: the sacrosanct formulas they use until the last drop, the fresh launches they've got their eyes on, and of course, the why behind it all. 
Advertisement
This ad is displayed using third party content and we do not control its accessibility features.
Marianna Hewitt is officially my No. 1 travel inspo. One scroll through her Instagram grid, and you, too, will swoon over her minimal, luxe aesthetic as she trots around the globe. 
Not only that, but the influencer, podcast host, and co-founder of Summer Fridays has the best (and I mean best) travel hacks: She keeps a toiletry bag stacked with her favorite skin and hair care minis! She swears by a pre-vacation lash lift! She stashes a lip balm in every tote! It's no wonder her inaugural Jetlag Mask, marketed as an "in-flight skin saver," became an instant cult hit. 
Since summer typically (hopefully!) inspires some relaxing getaways, I can think of no better time to share Hewitt's beauty and wellness must-haves. Her routine serves the ultimate wanderlust—just take a gander. 
The tried-and-true: A sheer mani 
"One of my favorite products of all time is Essie Ballet Slippers. I started wearing it in December of 2008, and it has become my staple signature polish that I always go to.
"I always try to like other [shades], but nothing is ever the same. It's the perfect color—it's not too pink, it's not too white, it's not too opaque. I love the translucency of it and the tone… It's my go-to shade all year long. It's been a long 15-year relationship with Essie." 
Essie Ballet Slippers
$ 9
An oldie but a goodie, this sheer polish is a timeless staple. If you fancy a milky, "naked" nail, you can't go wrong with this Essie number.
The surprise hit: LED light therapy 
"I use a Celluma LED light panel. It's my favorite one. At first, I didn't know if it was gimmicky. Like, is this light actually doing anything? And then I noticed after using it consistently over time, I did find results. Now, red light therapy is just one of those things I love for my hair and skin.
"My dermatologist also recommended another red light. You can get it on Amazon—it's a hairbrush that has a red light on it. She had such thick, full hair, and I asked her what she was using. It's called Hairmax. 
"Both of those are unexpected because you don't really think they're doing anything until you see the results. I've been using both of those for at least five years." 
[Editor's note: While red light therapy for hair needs further research, one study did find that women who received red light therapy at 650 nm every other day for 17 weeks experienced a 51% increase in hair density1; another research review touted red light therapy as safe and effective for promoting hair growth2 in both men and women. It's not a fail-safe, but it's promising!]
Celluma HOME
$ 795
Yes, she's pricey, but she puts in the work—when used consistently. LED devices are a dime a dozen these days, but unfortunately there are a fair amount of low-quality options on the market. This one is the crème de la crème.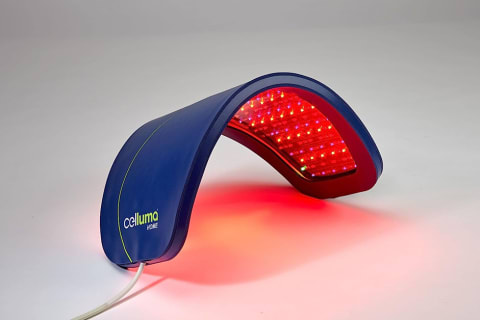 Hairmax Ultima 12 Laser Comb For Hair Growth
$ 299
Brushing your hair already stimulates blood flow, which facilitates healthy hair growth, but this red light tool kicks those benefits up a notch. It's FDA-cleared, cordless, and lightweight. What more could you ask for?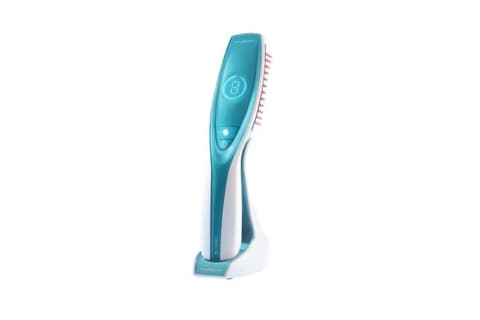 The secret: Consistent retinol & SPF
"It's not even that underrated, but consistency [with] retinol and sunscreen—a combination of both of them.
"Using retinol at night has been really great for my skin, and I love that retinol and SPF are both getting the love they deserve. In the last few years, TikTok has really helped people understand the importance of sunscreen and wearing it every single day.
"A lot of people think of SPF as just protection from the sun, but it really prevents damage, too. If you're trying to help hyperpigmentation, dark spots, and overall brightness of the skin, you want to use retinol and vitamin C, but you want to use SPF to protect the skin—so that if you do have any pigmentation or dark spots, they don't get any darker.
"We formulated the Summer Friday's Midnight Ritual Retinol Renewal Serum to be gentle yet effective. My co-founder Lauren Ireland had been trying to use retinol, and she really couldn't tolerate anything. Every time she would try one, it would be too irritating. She would get discouraged, and she would want to stop using it. 
"There are so many people like Lauren who want to get into retinol, but they don't want to go through the retinol 'uglies,' or the period of having to get your skin sensitized to using retinol. So we wanted to formulate a percentage that was gentle yet effective. 
"And then our SPF is a [fan] favorite. My most recent favorite person who said they loved it was Pamela Anderson. I love that she uses our SPF, especially because she's such a Malibu girl.
"It wears so well under makeup. It feels like a serum. You can usually feel when you're wearing a mineral sunscreen, or there's some sort of white cast, but it wears so well. I'm wearing it today on my skin. You can't even tell that you have it on." 
Summer Fridays ShadeDrops Mineral Milk Sunscreen SPF 30
$ 36
You'd be hard pressed to find a beauty editor who doesn't rave about this mineral serum-like sunscreen—I'm pretty obsessed with it myself. It's so smooth that it's hard to believe it's formulated with zinc oxide. Beyond having zero white cast, it actually leaves behind a subtle glow!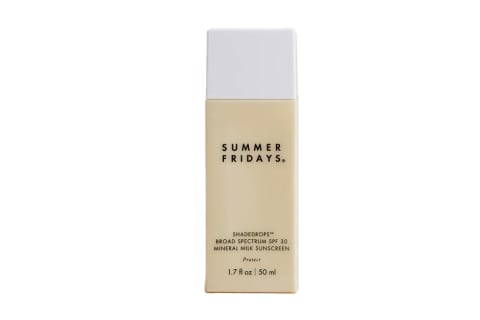 The up-and-coming: Brow & lash services  
"Something that people are really into recently—especially with 'no-makeup' makeup—is brow lamination and lash lifts. People are getting fewer lash extensions and are trying to grow their lashes back, but they want something a little bit more than their natural lash.
"And a lift, especially in the summer, is so beautiful. Something about it opens up my entire eye [area], even when I'm not wearing mascara. In the summer if I'm out swimming, I feel so confident with a lash lift. It just gives my lashes a little bit of something extra."
Advertisement
This ad is displayed using third party content and we do not control its accessibility features.
The splurge: Professional facials
"I love getting facials. Your skin care products that you have at home help maintain in-between [appointments], and going to a professional is such a great way to learn about your skin. Even if you are trying to figure out your skin type, your texture, what products might work for you, going to a dermatologist or an esthetician and getting a facial is really helpful. 
"My esthetician has been Shani Darden for over 10 years. Shani taught me so much about my own skin and the importance of vitamin C, retinol, and SPF in my routine—not only in my skin care products but also in my makeup.
"When I first started going to her, she asked me about every single product I was using in my skin care routine. Not only skin but also makeup. A lot of times when we think of our complexion, we stop at our skin care products, but we don't realize the foundations and everything else we're putting on our skin are also a part of our skin care routine.
"Invest in going to [the professionals], even if you just go one time. Then if you can make it something you do consistently for yourself, that's really great, especially if you have any skin care concerns like acne or rosacea." 
Shani Darden Retinol Reform Treatment Serum
$ 88
For those unable to book a treatment with the famed Shani Darden, we have great news: Her skin care line brings her professional magic to your very own bathroom. This multitasking night serum, for instance, features encapsulated retinol (which provides a gentler retinoid experience), lactic acid to smooth and brighten, and apple fruit extract to fend off free radicals.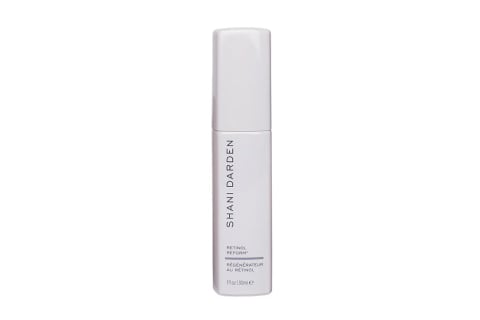 The steal: A cold rinse 
"Taking a cold shower. Not only do I like what it does for my body but also what it does for my hair. Ending with a cool rinse really just seals in the cuticles of my hair; it makes my hair feel really shiny, especially if I'm air-drying my hair. It doesn't become so frizzy. 
"It just makes me feel good. There are so many great podcast episodes and information about cold plunges and cold showers now. 
"Just a minute at the end [of my shower]. It's not a very long period of time. I listened to the Huberman Lab podcast—one of my favorites—and [Andrew Huberman, Ph.D.] said to make sure the water hits the back of your head and your neck to get the benefits.
"I don't know if I could do a full cold plunge, but a cold rinse at the end of the shower is easy." 
Advertisement
This ad is displayed using third party content and we do not control its accessibility features.
What my mom taught me: Never leave the house without lipstick
"My mom always said, 'Don't leave the house without lipstick.' She always has lipstick on her no matter what. If I ask her to take a picture, she's like, 'Oh, hold on, let me put my lipstick on.'
"I think the modern-day [equivalent] for me is a lip balm. I always have a lip balm in my bag no matter what, even when I'm just running out or going to work out. I love that my mom taught me that and her love of beauty passed over to me.
"She loves a drugstore lipstick, and then she usually splurges for blushes and eye shadows. I like the Dior Addict lipstick. It's a really hydrating formula. It almost feels like you're wearing a lip balm—it's really hydrating and it's not overly opaque. And they're refillable, which I really like. For lip balm, the Summer Fridays one, of course, is my other favorite product."
Summer Fridays Lip Butter Balm
$ 24
Found: A salve that deeply hydrates like a lip mask, yet feels like a lightweight lip balm. I'm partial to the yummy vanilla shade for a slick of moisture, but you can't go wrong with any of the other stunning tinted options.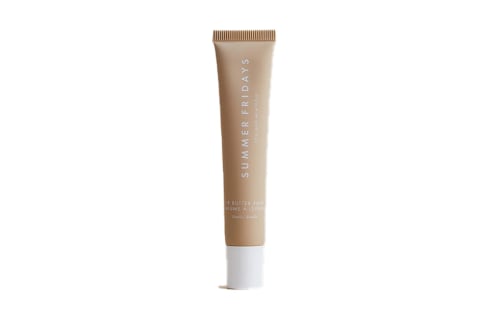 Dior Addict Hydrating Shine Lipstick
$ 45
Is there anything more chic than a Dior lipstick? I mean, the case itself is a work of art. Good thing it's refillable, no?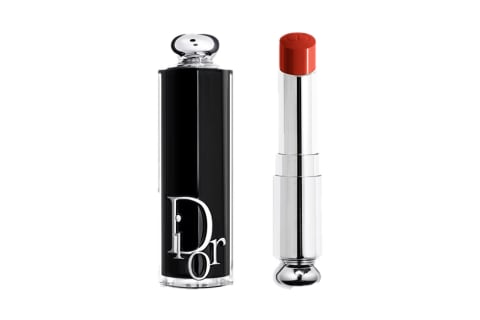 The carry-on: Throat sprays, eye masks & a packed cosmetic bag 
"This propolis immune spray from Beekeeper's Naturals. It just tastes really good, and it's just four sprays. I have them in every bag. Another is Listerine spray. It feels really refreshing on the go; I literally always have them with me all the time.
"When I travel on an airplane, I take a mini Summer Fridays Jetlag Mask. I also have a Slip silk eye mask, which is my favorite eye mask. It doesn't irritate the eyes, and if you do have a lash lift, mascara, or eyelash extensions, it's not tugging and pulling on your brows and lashes. It feels really gentle. It also doesn't irritate my skin—a lot of other eye masks have a really rough texture to them, and they'll end up irritating my skin on the areas it touches. 
"Another thing I have is this hanging toiletries bag from Amazon. I always keep it packed with all of my favorite minis. So when I travel for trips, it's already prepacked and ready to go. It comes in four sections. It's plastic, so you can easily wipe it down if any section has something that spills in it.
"I always keep it packed for trips because I travel so frequently, so I always have my full routine with me no matter where I go."
Beekeeper's Naturals Propolis Throat Spray
$ 14
Propolis is a sticky bee varnish (note: it's not honey) that comes from a mixture of resin from tree buds and bark, wax, and bees' own saliva. When the sap combines with the enzymes in their mouths, it results in an antibacterial substance that's perfect for cementing the walls of honeybee hives—and also amazing for immunity.
Slip Silk Sleepmask
$ 50
I've never personally slept on a cloud, but I imagine this Slip eye mask captures what it would feel like. The silk is cool, moisture-wicking, and antibacterial—plus, it comes in a host of chic colors.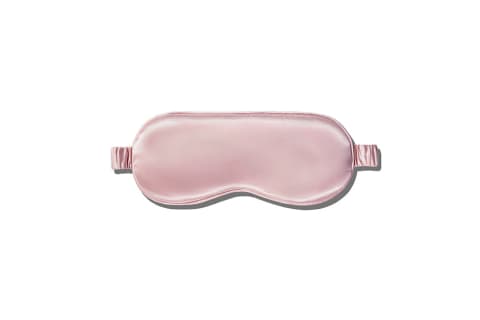 Narwey Hanging Toiletry Bag 
$ 18.99
I am for sure stealing Hewitt's toiletry bag hack! Keeping your skin and hair care minis safely tucked away will make packing a breeze. Just don't forget to keep an eye on expiration dates and swap them out every so often.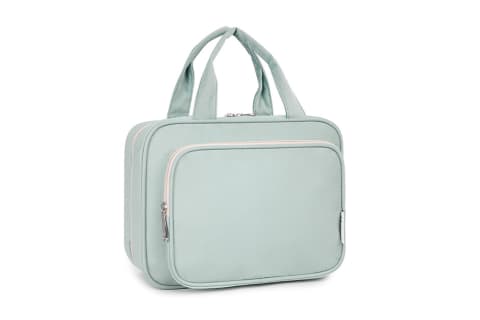 The signature: Pink, bronzy glam
"It's so funny. I was getting my makeup done yesterday for an event, and I'm like, 'I just want pretty, bronzy glam.' My everyday makeup and when I go out really is the same—I love really pretty, glowy skin that feels like my skin. 
"When I do my makeup, I just want it to be a little bit extra. I love a pinky blush, a nude lip, and a smudgy brown shadow. I kind of just do variations of the same makeup look. 
"I don't feel like myself without a lip liner and a lip balm, so I always have one of those on me. My favorite was from KKW Beauty [before the brand shut down]. When they all went on sale, I hoarded and bought so many of them, so I'm savoring them until hopefully they come back one day. 
"My favorite pink blush… There's two that I really like. One is a cream one from Summer Fridays called Pink Skies. And the other one is from Patrick Ta. It comes with a cream and a powder [compact]. For eye shadow, I like the Makeup by Mario Palette. It's all matte brown colors, and it's exactly the palette that I want. I'll just do variations of brown on my lids." 
Makeup By Mario Master Mattes Eyeshadow Palette
$ 50
A shimmer-free earthy eyeshadow palette that instantly gives your orbs some definition. It's beautifully versatile—you could opt for just a swipe of taupe or go with a full-on smoky situation.
Patrick Ta Major Headlines Double-Take Creme & Powder Blush Duo
$ 36
This bubblegum pink may look a bit extra in the pan, but, trust, it blooms beautifully on the skin. Just buff it out on the cheekbones to diffuse the pigment, or feel free to go full fuschia. By layering the powder portion over cream, you'll instantly set the hue for double the impact and longwear.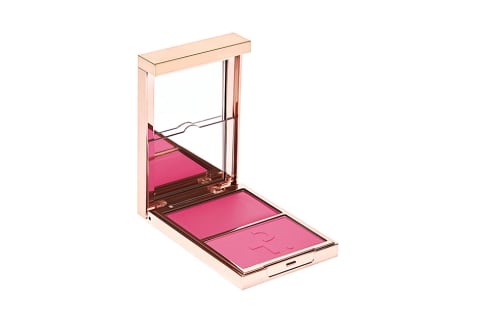 Advertisement
This ad is displayed using third party content and we do not control its accessibility features.