Contributing writer
Contributing writer
Jamey Powell is a writer and editor living in Brooklyn, NY. Previously the senior market editor at Healthline.com, she has years of experience scouring endless product reviews and testing out the latest and greatest products in the sleep, fitness, and nutrition markets.
May 31, 2023
Our editors have independently chosen the products listed on this page. If you purchase something mentioned in this article, we may
TempurPedic exploded on the scene in the '90s, thanks to its use of a NASA-developed material called memory foam. At the time, memory foam was a revolutionary new material with the ability to relieve pressure and muffle motion like no other (hence the cranberry juice demonstration). And yes, before it made its way to TempurPedic, NASA really did develop memory foam to cushion astronauts as they launched into space.
These days, memory foam mattresses are everywhere. Yet, more than three decades later, TempurPedic still maintains its status as one of the most popular mattress brands on the market. In this TempurPedic review, we'll dig into the details of the brand, the specs on a few of its most popular designs, and how it stacks up to competitors.
What is TempurPedic?
Based in Lexington, Kentucky, TempurPedic is a brand that's been selling foam-focused mattresses, pillows, toppers, and bedding since 1992. Odds are you know someone who has at some point in their life owned a TempurPedic mattress. Today, the brand is part of Tempur-Sealy International, the world's largest bedding manufacturer.
Through the years, TempurPedic has expanded its foam-focused line to offer hybrid and adjustable models as well. The mattresses are on the more expensive side, but they're easily accessible at a slew of retail partners across the country.
Our take on TempurPedic
There's no denying that TempurPedic makes several well-loved mattress models. However, we'd be remiss not to mention the brand's lack of eco-friendly efforts—especially compared to other brands we've reviewed.
TempurPedic does say it is dedicated to achieving carbon neutrality in its manufacturing facilities by 2040, which is great. That said, if sustainably sourced materials and organic certifications are important to you, there are greener options available.
Certifications
On the topic of mattress certifications, we'll note that while not sustainably sourced, all of TempurPedic's proprietary foams are CertiPUR-US certified. That means they're low in VOC emissions and made without certain flame retardants, formaldehyde, lead, and other heavy metals. CertiPUR-US is really the bare minimum in terms of certifications, and it only certifies the foam (not any other materials in the mattress).
TempurPedic also boasts the NASA Certified Space Technology Seal—it's a fun fact, but whether or not it's a reason to buy a mattress is up to you.
TempurPedic mattress models:
TEMPUR-Adapt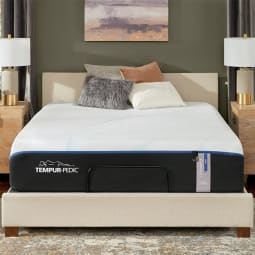 Best for:
Sleepers who like the feel of memory foam; all sleep positions
Mattress type:
All-foam or hybrid
Height:
11 inches12 inches13 inches
Delivery method:
White glove delivery
Sizes available:
Twin LongQueenKingCalifornia KingSplit California King
The TEMPUR-Adapt has a wide variety of customization options to choose from. Although the below models have their differences, they all offer generous pressure relief and motion cancellation (thanks to the brand's proprietary foams). Every TEMPUR-Adapt mattress also has a cool-to-the-touch cover. Plus, all models of the Adapt they all come with free white glove delivery and setup.
Adapt: This 11-inch mattress is the most basic model of the TEMPUR-Adapt. It uses the original TEMPUR foam and is available in both an all-foam or hybrid model, both of which have a medium firmness. It's a good pick for people who like the feel of memory foam and want a generous amount of pressure relief and motion cancellation. Back, stomach, and combo sleepers will likely prefer the hybrid model, which offers more support and durability and makes it easier to change positions throughout the night.
ProAdapt: The next level up, this mattress is 12 inches tall and swaps the original TEMPUR material for an even more responsive version of the foam, called TEMPUR-APR. You can choose from a soft, medium, medium hybrid, or firm version—and, unlike the Adapt, the cover is removable and washable. It's also worth noting that the ProAdapt starts at $2,899, which is considerably more expensive than the original Adapt.
ProLuxe: Last but not least, the ProLuxe model of the Adapt is 13 inches tall and offers 40% more foam than the original design. Like the ProAdapt, this model uses TEMPUR-APR foam and has the same removable, washable cover. However, it's only available in a soft all-foam or firm all-foam construction. It's also the most expensive, starting at $3,699.
All three models of the Adapt are popular picks for foam-lovers. Collectively, the Adapt has over 9,000 reviews, 6,200 of which are perfect five-star ratings.
TEMPUR-Cloud
Best for:
Fast & free shipping, side sleepers
Mattress type:
All-foam or hybrid
Delivery method:
Bed-in-a-box
Sizes available:
TwinTwin LongFullQueenKingSplit KingCalifornia King
The TEMPUR-Cloud was designed to keep up with the mattress industry's shift toward bed-in-a-box delivery. It's a medium mattress that's available in both an all-foam or hybrid model, which adds spring coils for additional support. Both models use the brand's TEMPUR foam to provide a soft-yet-responsive feel. Side and combo sleepers will likely be happy with both versions, but back sleepers, stomach sleepers, and larger bodied folks will prefer the added support of the hybrid model.
Whether you choose the all-foam or hybrid, the TEMPUR-Cloud arrives compressed and rolled in a reusable canvas bag. We love that it's not wrapped in plastic, but just note that while the brand says "reusable," you certainly won't be able to roll your new mattress back into the bag.
The TEMPUR-Cloud has 944 perfect five-star reviews on the brand's website. There are positive comments from all sleep styles who say they appreciate the pressure point relief. A few folks mention an off-gassing smell, but they say it goes away after a few days.
Advertisement
This ad is displayed using third party content and we do not control its accessibility features.
TEMPUR-Breeze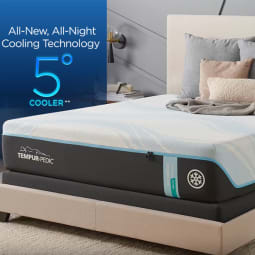 Best for:
Hot sleepers who love the feel of memory foam
Mattress type:
All-foam or hybrid
Height:
12 inches13 inches
Delivery method:
White glove delivery
Sizes available:
Twin LongQueenKingSplit KingCalifornia KingSplit California King
Memory foam has a reputation for trapping in heat, but the TEMPUR-Breeze aims to keep things cool. This mattress has a combination of proprietary ventilated and cooling foams and a removable, cool-to-the-touch cover. You have the option to add spring coils for a hybrid design, which can help add even more airflow and support to the bed. As with the Cloud and Adapt models, there are customization options. Here's how the two TEMPUR-Breeze designs stack break down:
ProBreeze: The brand says the ProBreeze sleeps up to five degrees cooler than the TempurAdapt model. It's 12 inches tall and is available in a medium or medium hybrid design. This mattress starts at $4,099—which is a hefty chunk of change, but includes free white glove delivery and setup.
LuxeBreeze: This design takes the foundation of the ProBreeze and adds more of the brand's proprietary cooling material. In turn, this bed sleeps up to 10 degrees cooler than the TempurAdapt. It's 13 inches tall and is available in soft, hybrid-medium, or firm. Of course, all this cool cushiness comes at a price: It's the most expensive TempurPedic model, starting at $5,099.
The TempurBreeze has over 1,500 reviews on the company's website—over 1,100 of which come with a five-star rating. Many reviewers say the bed lives up to the cooling claims and provides excellent pressure relief.
Comparing TempurPedic models
| Mattress | Price | Firmness | Certifications | Type | Delivery | Trial | Warranty |
| --- | --- | --- | --- | --- | --- | --- | --- |
| TEMPUR-Adapt | From $1699 | soft; medium; firm | CertiPUR-US | All-foam or hybrid | White glove delivery | 90 nights | 10-year |
| TEMPUR-Cloud | From $1699 | medium | CertiPUR-US | All-foam or hybrid | Arrives in a box (add in-home setup for $199) | 90 nights | 10-year |
| TEMPUR-Breeze | From $4099 | soft; medium; firm | CertiPUR-US | All-foam or hybrid | White glove delivery | 90 nights | 10-year |
TempurPedic shipping & delivery
The delivery method varies by model. The TEMPUR-Adapt and TEMPUR-Breeze mattresses come with free white glove delivery. This means someone will come into your home, get the bed set up, and take away all packaging materials. They can even take away your old mattress and box spring.
The TEMPUR-Cloud model is a bed-in-a-box and will arrive at your doorstep. You'll need to unwrap and unbox the mattress yourself and get it onto your frame. Ground shipping for the Cloud is free. However, free shipping is not available for certain remote locations, Alaska, or Hawaii.
TempurPedic sleep trial & returns
TempurPedic offers a 90-night trial so you can try your new mattress in the comfort of your home. This trial is shorter than most online mattress brands today. Casper and Birch offer 100 nights, WinkBeds and Nolah offer 120, and Saatva and Awara offer one full year.
After you've tried the mattress for 30 nights, you can choose to return it (up until the 90-night limit). TempurPedic will refund you, minus shipping charges—but the brand doesn't say upfront what those might be. Also worth noting: Your refund policy may vary if you choose to buy a TempurPedic from a different retailer than the company's website.
TempurPedic warranty
After your first 90 nights, TempurPedic mattresses are covered by a 10-year warranty. This is pretty standard for the mattress industry. Some brands offer 25-year or lifetime warranties, but you'll likely be ready to reevaluate your mattress after 10 years anyway.
Pros & cons of TempurPedic
Pros:
Thousands of positive reviews
Excellent pressure relief for people who like memory foam
White glove delivery available for 2 out of 3 mattress models
Cons:
No sustainably sourced materials or organic certifications
TEMPUR-Adapt and TEMPUR-Breeze models are pricey
Shorter sleep trial than other brands
How sleep impacts your longevity
A solid night of quality sleep can have a huge impact on your overall health. In fact, a recent study1 of over 172,000 people found a clear relationship between sleep and mortality.
Mattresses are, of course, just one factor in your sleep hygiene. Having a regular sleep schedule and a healthy bedtime routine is crucial. Paying extra attention to seemingly small details such as your sheets, pillows, and room noise can help you create your perfect sleep environment.
TempurPedic vs. other brands
Although it's the grandfather of memory foam, TempurPedic isn't the only brand making pressure-relieving mattresses (by a long shot). Here's how TempurPedic stacks up to other popular memory-foam-based mattresses on the market today:
FAQ:
Are TempurPedics worth it?

Mattresses are an extremely personal purchase. Whether a TempurPedic is worth it for you or not will depend on how well you sleep on it. If you're looking for an affordable mattress, there are comparable mattresses at a lower price point (and they often come with a longer trial period). But if you get a great night's rest on a TempurPedic bed, it could be worth the extra cash.
How long do TempurPedics last?

TempurPedic's warranty covers manufacturer defects, such as sagging or cracks, for up to 10 years. However, your mattress may last longer than that with proper care, as long as you're sleeping comfortably on it.
Why can't you flip a TempurPedic mattress?

All TempurPedic's mattresses are designed to have a top and a bottom. In other words, the base of the bed is the support layer, which isn't designed for comfort. If you're interested in a mattress that is flippable, we have some suggestions.
Can you wash the top of a TempurPedic mattress?

Some of TempurPedic's models come with removable, washable covers. Others are attached and require spot-cleaning only. If a removable cover is important to you, be sure to read the details of the mattress before purchasing. Just keep in mind, removing a mattress cover isn't the tricky part—getting it back on is!
The takeaway
While we hope TempurPedic innovates into a more sustainable mattress brand, there's no denying that its beds have stood the test of time. If you're a side sleeper or are looking for great pressure relief, you'll likely find a TempurPedic model that works for you. And, while they don't have the most outstanding trial and warranty policies, it is nice to have the option of white glove delivery in a day and age where schlepping a mattress box into your home has become the norm.