Contributor
Contributor
Christie is a writer, editor, and content strategist whose work has appeared in Shape, Real Simple, Southern Living, InStyle, People, Travel + Leisure, and more.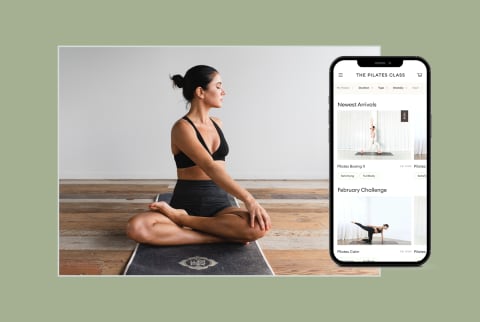 February 25, 2023
Our editors have independently chosen the products listed on this page. If you purchase something mentioned in this article, we may
If you're short on time and looking for an affordable way to learn Pilates, online classes are a great way to get in on all the benefits of the practice. Today, people take mat and reformer Pilates for a low-impact workout that builds core strength and tones muscles throughout the entire body. The best online pilates classes allow you to exercise from anywhere, no matter how much time you have, often with no equipment required. The best part? They're typically much less expensive than boutique studios—and no, that doesn't make them any less effective. 
Keep scrolling to learn about the benefits of pilates and to find our picks for the best online Pilates classes of 2023.
The best online pilates classes:
The benefits of pilates:
The benefits of Pilates go far beyond just physical. Pamela Trujillo, a NASM-certified personal training and master instructor at SLT says the exercise increases core strength and muscle tone throughout your body. Gaby Noble, a Pilates instructor and the founder of Exhale Pilates London, adds that, when performed regularly, Pilates helps prevent injury, boosts flexibility, and promotes balance in the body, "You can use it to calm the central nervous system with slower controlled movements or boost your stamina and heart rate by bringing in flow to your workout," adds Noble. It can also help with focus and concentration, and it may even reduce chronic pain1 and ease anxiety and depression2.
"My favorite reason to incorporate Pilates into a fitness program is for the injury prevention and joint stabilizing benefits," says Tiffany Thompson, a NASM-certified personal trainer and performance coach at Future.
Who is online pilates good for?
Noble says Pilates "is suitable for everyone regardless of your age or ability," and virtual Pilates can be particularly helpful for people who travel a lot, don't live near a studio, or simply prefer to workout at home. Trujillo adds that "[Pilates] can be especially beneficial for busy people that have a hard time committing to specific class times." 
People with certain injuries who may need personalized attention from an instructor should avoid online Pilates. Additionally, according to Noble, online classes may not be the best choice for people who struggle to stay focused.
If you decide to take classes online, be sure to keep form and safety in mind, since you won't have an instructor in the room to physically assist you. "If you are finding yourself relying on momentum or needing to compromise form to complete an exercise, it's best to modify the exercise in order to prevent injury and get the most benefit from the movement," Thompson says.
How to choose the best online pilates classes.
When deciding which online Pilates class is best for you, consider the below factors.
Cost: Online Pilates classes vary in price. You might be satisfied from free videos on YouTube, or perhaps you're looking for a membership that offers more variety and perks. Whatever your preference is, keep your personal budget in mind when picking a class.
Class Type: When evaluating online Pilates platforms,consider whether you're looking for mat Pilates classes or reformer Pilates classes, if you'll need pre- and postnatal options, and the class length and format you prefer. "Have an idea of your fitness level before you select a class to avoid feeling discouraged if a class is too intense," suggests Thompson.
Instructors: Finding the right instructor is often key to maintaining a fitness routine. When it comes to online Pilates classes, you'll want to ensure the instructors have Pilates certifications and are experienced. "Pilates is an unregulated word, so anyone can say they teach it and don't have the right qualifications," Noble points out.
How we picked:
We kept prices in mind when selecting the best online Pilates classes. Some classes on this list are free, while others require monthly membership fees. No matter your budget, there's an online Pilates program for you.
Every Pilates class we chose has qualified, experienced instructors. We kept factors such as the number of instructors and the diversity of instructors in mind when selecting these best at-home Pilates classes.
You'll find options for mat Pilates, reformer Pilates, and pre- and postnatal Pilates. Many of our picks have classes for beginners and advanced levels.
We looked at as many reviews as possible to determine which online Pilates classes are truly the best. User feedback was helpful in determining which classes will be enjoyed by the most people.
Our picks for the best online pilates classes of 2023:
Advertisement
This ad is displayed using third party content and we do not control its accessibility features.
Advertisement
This ad is displayed using third party content and we do not control its accessibility features.
Advertisement
This ad is displayed using third party content and we do not control its accessibility features.
FAQ:
Who is the best online Pilates instructor?

The best online Pilates instructor will be different for everyone. When searching for a teacher, make sure they have Pilates certifications and experience, then consider whether their teaching style works for you.
Is online Pilates effective?

"Online Pilates can be very effective when done correctly and consistently," says Trujillo. Noble agrees, adding that online Pilates "keeps you active even if you're unable to attend an in-person class, and you can do it anywhere and anytime."
Is 20 minutes of Pilates a day enough?

As little as 20 minutes of Pilates a day is enough to feel and see results over time if you're consistent, according to Noble, Thompson, and Trujillo. "Any amount of time doing Pilates can be beneficial," says Thompson.

However, the amount of time you may want to do Pilates each session depends on your personal goals and fitness level. "If you're new to pilates or working out, you can start out with shorter sessions and then gradually build up the strength for longer sessions and more advanced exercises," Trujillo says.
What is the best Pilates at home?

The best Pilates at home depends on your goals, what equipment you have, and how much time you have to dedicate to your practice. If you're on a budget, Move with Nicole may be your best free option. If you're working on honing your skills, in-depth classes from Pilates Anytime may be ideal for you.
The takeaway.
Online Pilates classes are a great way to do a low-impact form of exercise at home, on your schedule. You can find classes for mat or reformer Pilates online available for beginner, intermediate, and advanced students. The best options depend on your budget, goals, and fitness level, but there's something for just about anyone looking to get in on the benefits of Pilates without visiting a studio in person. Not sure if Pilates is the right exercise for you? Check out our picks for the best online workout programs of 2023, with options for every budget, exercise type and experience level.