Contributor
Contributor
Christie is a writer, editor, and content strategist whose work has appeared in Shape, Real Simple, Southern Living, InStyle, People, Travel + Leisure, and more.

Expert review by
Personal trainer & holistic nutritionist
BB Arrington is NASM-certified personal trainer, holistic nutritionist, and sustainability advocate.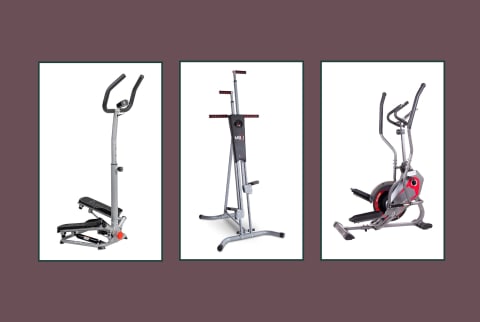 February 11, 2023
Our editors have independently chosen the products listed on this page. If you purchase something mentioned in this article, we may
It's no secret that taking the stairs is usually the healthier choice—but did you know climbing stairs daily could decrease your risk for conditions such as heart disease, stroke, and Type 2 diabetes1? Even short bouts of stair climbing have been shown to boost energy and relieve tension2. Today, this tried and true low-impact exercise is more accessible than ever, thanks to the best stair climbers for at-home workouts.
Whether you're physically opting for the stairs over an escalator or elevator, or using a stair climber machine at home or your local fitness studio, NASM-certified personal trainer Susane Pata agrees that the activity is a great low-impact exercise. "You can access the benefits of cardiorespiratory training as well as strength and stabilization training," she says.
Below, find our picks for the best stair climbers and learn everything you need to know about choosing the right machine for you.
The best stair climbers of 2023:
What is a stair climber?
A stair climber is an exercise machine that continuously works the lower body and core muscles by facilitating an alternating stepping motion. Most offer a range of resistance levels so you can increase or decrease the intensity of your workout. 
To use a stair climber, you'll go through the motion of climbing stairs one step at a time. "This alternating motion lends itself to unilateral training, which has a lot of benefit in and of itself," Pata explains. Unilateral training involves working one side of the body at a time and is beneficial for creating symmetrical strength in the body.
Some machines require you to lift your feet to step up on a moving platform that mimics a traditional staircase, while others allow your feet to stay planted on moving pedals. A few include resistance bands for an added upper-body workout, while others have a handlebar to maintain stability.
Pata says as long as you prioritize proper recovery, stair climbers can be used every day—but be mindful of the intensity. "Daily high-intensity levels of training are ill-advised," she elaborates. "Your body needs to recover after hard workouts, and if you do not allow for this, you run the risk of overtraining, fatigue, and possible injury." Her recommendation? If you want to use it daily, only operate a stair climber at light to moderate intensity for 30 to 60 minutes at a time. If you exercise on your stair climber at a high-intensity level, limit your sessions to no more than three times per week.
Who should use a stair climber?
Just about anyone who is capable of walking up the stairs can incorporate a stair climber into their routine. It's a great exercise method for weight loss, and for anyone seeking a low-impact option that decreases stress on the joints. Runners who want to boost strength and power in other areas will particularly benefit from stair climbing, says Pata. 
Pata recommends that people with preexisting knee problems should avoid this workout, as it could aggravate knee pain. Also, those with health conditions, such as heart issues, should always receive clearance from their health care practitioner before adding a stair climber to their routine.
What are the benefits and drawbacks of a stair climber?
According to Pata, using a stair climber is beneficial for cardiovascular training and fitness. "The motion of climbing stairs mimics lunges, which strengthen the glutes, hamstrings, and quadriceps muscle, as well as building core strength." Because it works one leg at a time, stair climbing is a unilateral exercise. Pata says this can help prevent injury and improve performance.
Stair climbers have the added benefit of allowing you to control the intensity of your workout based on your individual needs and current strength level. "Light- to moderate-intensity relative to fitness level can be a great way to start a fitness regimen on the stair climber and a great way to lose weight over time," Pata adds. "Doing short bursts of fast stair climbing (safely) is an excellent way to condition the body for higher performance and big caloric burn."
Just know, you must stay attentive while using a stair climber to avoid making a misstep on the machine. On that note, Pata says to be cautious of going too fast to avoid taking a bad fall.
How we picked:
The number of positive customer reviews and ratings helped us determine which stair climbers were worth considering.
Fitness equipment can be expensive, so our list includes affordable stair climbers and more expensive options.
We considered the size and weight of these machines, to help you find one that won't take up too much space in your home.
Stair climbers come with a variety of features. We looked at the displays, designs, and multifunctionality of machines to pick out the best options. Some are foldable, some come with resistance bands, and others have high-tech displays to help you keep track of your progress and stats.
Our picks for the best stair climbers of 2023:
Advertisement
This ad is displayed using third party content and we do not control its accessibility features.
Advertisement
This ad is displayed using third party content and we do not control its accessibility features.
Advertisement
This ad is displayed using third party content and we do not control its accessibility features.
Advertisement
This ad is displayed using third party content and we do not control its accessibility features.
How to choose a stair climber.
When it comes to choosing a stair climber, you'll want to consider the price, size, and features of a machine. Your budget and floor plan will quickly narrow down your search. From there, think of what key features are important for you, such as resistance options, display screen capabilities, and upper-body exercise components.
Safety features are also important to consider, according to Pata. She recommends looking for a stair climber with handles, an emergency stop, and a slow starting cadence to avoid injury.
FAQ
Are stair climbers worth it?

A stair climber is worth the investment if you plan to use it regularly. If this will be your main form of cardio, there's good reason to invest in an at-home machine.
How many minutes of stair climbing is a good workout?

Training for 30 to 60 minutes on a stair climber at a low to moderate intensity is a good workout, according to NASM-certified personal trainer Susane Pata.
Is it OK to climb stairs every day?

Yes, depending on the intensity of your training. While experts do not recommend high-intensity stair climbing every day, you can use the machine daily if working at a low to moderate intensity. Research shows daily stair climbing may decrease risk for metabolic syndrome.
Is climbing stairs better than squats?

"No exercise is better than the other—they each have their place," Pata says, explaining that while squats and climbing stairs are different movements, each helps strengthen muscles in the lower body and core. Stair climbing is more comparable to lunges, due to the leg position and movement, she notes.
The takeaway.
When used regularly and correctly, stair climbers can boost your energy and strengthen the muscles in your lower body. If you do invest in a stair climber, be sure to talk with your physician about existing health conditions and prioritize rest and recovery in between workouts. Still not sure if this is the best home workout equipment for you? Check out our picks for the best at-home exercise bikes or the best treadmill brands.