Contributor
Contributor
Caitlyn Martyn is a freelance writer whose work has appeared in Byrdie, InStyle, Popsugar and more.

Expert review by
Sarah Kostyukovsky, PT, DPT, OCS
Sarah Kostyukovsky, PT, DPT, OCS, is an orthopedic physical therapist who specializes in treating pelvic floor dysfunction and the perinatal population. She earned her B.S. from the University of Virginia and her Doctorate of Physical Therapy from Columbia University College of Physicians and Surgeons. She is co-founder of Flow Physiotherapy and the owner of Mom in Balance New York, which offers pregnancy and postpartum outdoor fitness classes in Manhattan and Brooklyn.
February 6, 2023
Our editors have independently chosen the products listed on this page. If you purchase something mentioned in this article, we may
The benefits of meditation go far beyond a sense of calm. A regular meditation practice can mitigate stress1, promote healthy eating2, reduce pain in your body, and even improve your sex life, your attention span, and your mood3. Though the ancient practice is traditionally performed while sitting cross-legged or kneeling on the ground, meditation chairs are great for beginners and seasoned meditators alike. The best meditation chairs support your body physically, allowing you to feel comfortable and relaxed throughout your practice. 
To learn more about how to choose a meditation chair, we spoke with meditation instructor and psychotherapist Allie Vespa, as well as meditation instructor Kirat Randhawa. Below, find our selections for the best meditation chairs of 2023, with expert advice on who should use them and how to use them.
The best meditation chairs of 2023:
What is a meditation chair?
Meditation chairs are designed to support you physically and cognitively during a meditation practice. According to Randhawa, meditation chairs help maintain your posture, which is key to being relaxed enough to focus on your practice. "Without the right support, it can be challenging to explore your inner experience," she says. 
Vespa agrees, explaining that meditation chairs can reduce physical discomfort (read: distractions) so meditators can "drop into" their practice and remain there for a longer period of time. 
Meditation chairs differ from standard, everyday chairs in that they typically feature straighter backs, to support an upright spine position, and wider (sometimes heightened) seats to elevate the hips. These chairs make sitting in a cross-legged or kneeling position feel much more comfortable.
How do you use a meditation chair?
Vespa says there is not a one-size-fits-all approach for how to sit in a meditation chair. While many meditators sit in a traditional cross-legged or lotus seat, this posture is not accessible for everyone's body. "This is the first thing I mention to all my clients, one of the important aspects of meditation is finding a seat where you can remain comfortably for an extended period of time, with a straight spine and relaxed shoulders," she explains. "This can be done seated or kneeling on the ground, on a bolster or meditation chair, or of course a regular chair (with or without a back)." No matter which type of chair you choose, you can sit or kneel in whatever position you feel most comfortable.
Who should use a meditation chair?
Per Randhawa, meditation chairs are a great choice for anyone. "The key [to feeling comfortable during meditation] is to adjust your posture in a way that it feels most supported by the cushion," she says. "Elevating the hips is essential to preventing and releasing tension in the legs, pelvis, and knees." 
If you have joint pain, back pain, or other discomfort, you'll likely benefit from the comfort of a meditation chair. Anyone who feels uncomfortable in an upright position should not use a meditation chair. If you are recovering from an injury, it's always best to speak with your doctor before deciding if a meditation chair is right for you.
How to choose a meditation chair.
Ready to purchase a meditation chair of your own? Consider these three important factors when choosing one: 
Comfort: Our experts agree that comfort is key when it comes to building and maintaining a meditation practice. Go with whichever chair feels right for your body. If you aren't sure, make sure to choose a chair with a return policy that allows you to send it back if need be.
Materials: Pick a chair that relaxes you, both in the way it looks and feels. Focus on materials that blend in with your space and your personal style and feel pleasant against your body. 
Support: Meditation chairs are designed to support your posture, allowing you to feel relaxed and at peace. "I recommend a sturdy chair with a solid back to support your spine and seat," Randhawa says.
How we picked:
We selected meditation chairs in a variety of designs and styles so you can choose the one that fits best with your space and preferences.
The chairs on our list are comfortable, stable, and, most importantly, supportive.
We read hundreds of reviews to determine which chairs have the best user feedback and used any negative comments to inform potential cons for the products we've selected.
We used our expert's advice and insights to guide our search for the best meditation chairs.
Our picks for the best meditation chairs of 2023:
Best for back support: Mindful & Modern Meditation Chair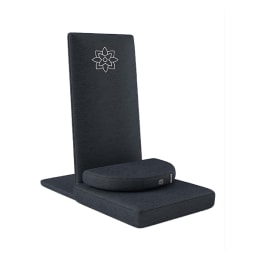 Pros:
90 degree adjustable back with 5 angles
Comes with bonus portable cushion
Cons:
Can be too narrow for some people
Dimensions: Height: 26", Seat Area: 16" x 16" x 3.5"
Type: Flat back floor chair with cushion
Materials: Holland velvet cover100% buckwheat hull cushion filling
Return Policy: Free returns for damaged/defective items1-year warranty
If persistent back pain is prohibiting your practice, this meditation chair could be the solution. Designed to help you settle comfortably into the right posture, the chair offers 90 degree back support and adjusts to five customizable angles.The soft holland velvet cover is easy to clean and feels nice against the skin, minimizing distractions from itching or discomfort. The chair is lightweight (3.5 pounds) and folds flat, making it ideal for stowing, traveling, or taking to yoga class.  
The chair comes with a portable meditation cushion filled with buckwheat hulls, which is great for extra comfort and hip elevation. Per Randhawa, "Elevating the hips can further help support an upright spine position." By adding cushions between the legs or directly under you, you'll promote more chest opening and shoulder softening. 
With pages upon pages of five-star reviews, this popular pick gets a lot of praise from people with back pain. One happy shopper says, "I use it in its upright position at 90 degrees and use the included semi-circle buckwheat cushion for more lumbar support. The combination is perfect for me to meditate with an upright, supported spine, and is comfortable for sessions 45 minutes and longer. My spine feels solidly supported without putting too much pressure on my back."
Best for tight hips: Alexia Meditation Seat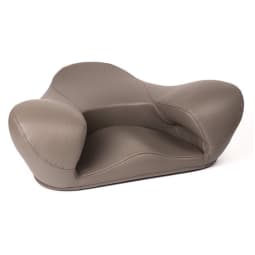 Pros:
Unique design
Attractive aesthetic
Grooves for ideal hip alignment
Cons:
Not ideal for those over 6 feet
Dimensions: 26" x 33" x 12"
Type: Structured mixed-material chair
Materials: Metallic skeletonNeoprene foam cushionLeather or canvas
Return Policy: 30 days
A popular option among yogis and meditation practitioners, this stylish one-of-a-kind chair promotes an ergonomically-correct posture. With an elevated seat that raises the hips and angles them forward and hollow foot rests to prevent numbness during sitting, the chair encourages the proper sukhasana position, sans fidgeting. 
This chair has a light metal skeleton to support the body (specifically the lower back, pelvis, knees, and feet), foam padding, and upholstered canvas or vegan leather for optimal comfort and support—allowing you to get deeper into your practice. 
Plenty of positive reviews attest to this chair's superb design. One enthusiastic buyer says, "This meditation chair was pricey but worth the money. It's so comfortable to sit in for long periods of time, even with hip problems. It's sturdy and after 3 months is still in great condition, even after using it everyday."
Advertisement
This ad is displayed using third party content and we do not control its accessibility features.
Best ergonomic: Pipersong Meditation Chair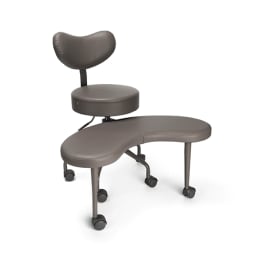 Pros:
Multiple positions from one chair
Has wheels for easy movement
Can be used for more than meditation
Cons:
Delivery is several weeks behind
Dimensions: 30.7" x 27.6" x 30.7"
Type: Ergonomic, wheelie meditation/office chair
Materials: Polyurethane leatherHigh-density foamSteel base
Return Policy: 30 daysBuyer responsible for cost of return shipping
Unable to sit still? This revolutionary chair allows you to change up positions with a 360-degree swivel footstool—because not everyone feels comfortable sitting in one position each time they meditate. Whether you prefer kneeling, sitting cross-legged, or with your knees up, the chair is made to support your entire body. Plus, with resilient, high-density foam, the 3.7-inch thick seat cushion helps prop up hips, feet, knees, and ankles at all times, while the crescent-shaped backrest offers excellent lumbar support.
It also makes for a great office chair. You can expect your posture to improve and your body to feel stimulated, even while sitting at a desk for hours. The regular option (listed here) is recommended for those under 6-feet tall and 200 pounds. However, there is a "plus" design, which supports users up to 250 pounds. 
Despite its higher price tag and month-long waitlist, this chair is a crowd pleaser and is very versatile. Reviewers say it enhances their meditation experience and their work-from-home life, too. A particularly pleased customer writes, "I immediately fell in love with this chair. It was very easy to assemble and is super comfortable. I love the different positions I'm able to sit in, especially being a student, so I spend a great deal of time in this chair. It is also perfect for meditation practice."
Best multipurpose: Gaiam Serenity Meditation Chair
Pros:
Stylish design
Doubles as a piece of furniture
Dimensions: 27" x 30" x 19.5"
Type: Low chair with cushion
Materials: RattanKapok-filled cotton
Return Policy: 30 days
Designed without arms, this chair promotes freedom of movement, allowing you to really open up during your practice. Since it's so low to the ground, you can comfortably place your feet below you to ground further into the moment. Alternatively, if you opt to sit criss-crossed, the Kapok-stuffed cushion comfortably holds the weight of your legs. To further add to the support, the straight back of the chair helps the spine stay upright without feeling stiff. 
Made from banana leaf and mango wood, the boho chair has a natural feel that suits any home aesthetic. Keep in mind, the natural materials and the cushy pillow clock in at around 28 pounds, so it's not super portable. Despite that, the chair has only positive reviews. One content buyer shares, "My serenity chair is my "destination" and my safe space to free myself to relax and embrace my daily meditation. I am excited to take my seat each morning and am feeling renewed and refreshed as I move into my day."
Advertisement
This ad is displayed using third party content and we do not control its accessibility features.
Best portable: BonVivo II Portable Floor Chair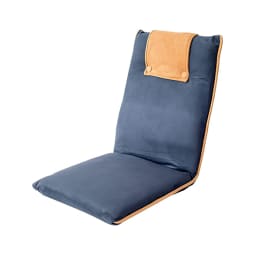 Pros:
Works for indoor and outdoor use
Lightweight and easy to transport
Cons:
Not very supportive
Must lie flat to carry
Dimensions: 18.5" x 16.9" x 21.3"
Type: Portable flat back seat cushion
Materials: Memory foamAlloy steel frame
Return Policy: Varies by retailer
Frequent travelers will love this portable meditation chair, which helps hold you accountable to your practice no matter where you are. With adjustable back support, a foldable frame, and a plush easy-to-clean cover, it's ideal for getting zen both indoors and outdoors. To keep the chair looking good as new, it's recommended that you spot-treat stains with a damp sponge. 
The comfy foam padding only adds to this chair's appeal, keeping the spine and sit bones supported while still being thin enough to fold up. Plus, at just 12 pounds, it's fairly lightweight and easy to transport. 
Even though this chair isn't as supportive or heavy-duty as others, it has thousands of positive reviews on Amazon. A shopper who experiences back pain says, "I'm so happy with my purchase. I got this chair to offer me back support while meditating. I can set it to either lay down, sit up straight, or lounge back. It's very supportive. A great buy and I'm glad I chose this style."
One person mentions that, while they're pleased with her purchase, they wish they could fold it in half. "Carrying it around fully flat and open can be inconvenient. Otherwise, it's fantastic," they write.
Best large: Friends of Meditation Extra Large Meditation Chair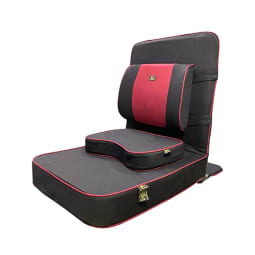 Pros:
Foldable
Fits everyone 6'2" and under
Cons:
Travel bag isn't the sturdiest
Dimensions: 29.13" x 23.62" x 9.84"
Type: Floor chair
Materials: Durable cotton
Return Policy: Varies by retailer
Great for prolonged sitting, this extra-large meditation chair is as comfortable and accommodating as it gets. It was designed by a yoga teacher and meditation instructor, with no detail overlooked. The chair features a curved backrest and a 3-inch zafu to keep your hips raised. With a bigger width than the brand's original meditation chair, this option is well-suited for those with larger torsos and legs, or who are uncomfortable sitting in narrow chairs. 
Caring for the chair couldn't be easier: It has a removable soft-brushed cotton cover and is foldable for easy storage and portability. 
One Amazon customer writes, "I sometimes meditate 8-10 hours a day, 7 days a week. I have a long torso and am 6'3″. This meditation chair is so comfortable. I have tried others but always come back to this one. I have also taken it to India on meditation retreats."
Advertisement
This ad is displayed using third party content and we do not control its accessibility features.
Best meditation bench: Mindful & Modern Padded Meditation Bench
Pros:
Durable and stable
Cushion and pad included with bench
Dimensions: Bench: 17" x 7.5" x 7.5" ; Cushion: 17" x 7.5" x 1.5"
Type: Bench
Materials: BambooHolland velvetLatexCotton batting
Return Policy: 1-year warrantyReturns vary by retailer
Benches can be helpful for longer meditations, as they support the upper body and encourage an upright position. In fact, Vespa recommends meditation benches for those who require a little extra help getting into the right posture. "I find benches help to support a natural lengthening of the spine, especially when my lower back and knees are feeling a bit more sensitive from sitting repetitively for long periods of time," she says. 
This padded bamboo bench and its cushion topper help stabilize the body in a grounded position, without putting too much pressure on the knees. When used with the accompanying cotton zabuton mat, you'll find even better pressure relief. There aren't too many reviews for this bench yet, but those that it does have are positive. One person, who gave the bench a five-star rating writes, "The bench is very sturdy and fits in its carrying bag perfectly. The bench cushion is made of very good construction and I feel confident in this stool."
Best for kids: Yogibo Mini Bean Bag Chair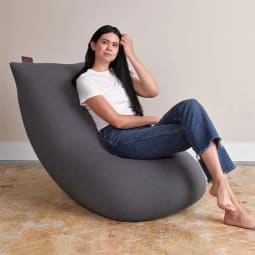 Cons:
Removing the cover requires maneuvering
Dimensions: 49" x 24" x 21"
Type: Bean bag chair
Materials: Cotton/spandex blendPolyester/spandex blendEPS beads
Return Policy: 30 days
Studies show that mindfulness practices can be useful in improving children's cognitive, emotional, and social abilities—and this meditation chair is a great way to introduce meditation into their lives. Cushy and cozy, this compact seat truly feels like a cloud. Even better, it alleviates pressure and automatically adjusts to the shape of your body, ensuring fidget-free relaxation. The outer cover is made from a durable cotton and spandex blend that's machine washable, which certainly comes in handy with kids. It takes up less than four square feet, making it a welcome addition to all spaces. 
The brand has thousands of happy customers, with praise for the variety of size options and how well the chair holds its form. One shopper who bought the mini chair for her son writes, "I searched and compared many different bean bag options before deciding on this one for my son, who has sensory issues and needed a nice chair to surround himself in. This one fits the bill. It's soft, but not too much that you won't sink right through. It holds form enough to be comfortable but supported…Overall this has been a great choice for our family."
Advertisement
This ad is displayed using third party content and we do not control its accessibility features.
Best budget: BackJack Floor Chair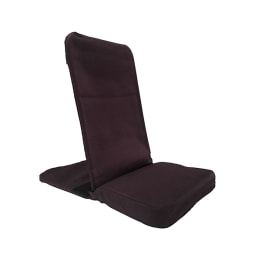 Pros:
Two size options
Comfortable padding
Dimensions: 19.5″ x 14.5″ x 2.25″
Type: Floor chair
Materials: Cotton
Return Policy: 30-day free refunds
Available in two sizes (regular and extra large) this floor chair is an excellent choice for people who want a little extra support without spending a ton. It comes in nine colors, flips up to different angles, and features a soft cotton "tough duck" polyester fabric cover over a lightweight, rust-proof frame. 
The heavily padded chair is personally recommended by Vespa, who uses one in her own practice. "I love the back support it provides. I've used it many times, both in my practice and in trainings when I spend long periods of time sitting on the floor," she says.
FAQ:
Is it better to meditate on the floor or in a chair?

Meditation experts Allie Vespa and Kirat Randhawa agree that this is a personal preference and truly depends on your physical constitution and how you're feeling on that particular day. "Sitting on the ground is a wonderful way to quite literally feel grounded, but if this disrupts your physical comfort, it's not worth it," Randhawa explains. "Ensuring that you're both comfortable and alert are important components of sustaining your attention in a meditation practice." 
Why sit cross-legged during meditation?

The cross-legged position, also known as lotus position, is a posture that has been adopted from ancient India for meditative purposes and has since carried over into the modern world, Randhawa explains. In this position, each foot is placed on the opposite thigh. The pose is meant to encourage a rested state while simultaneously having an active body.
Can you meditate in a kneeling chair?

The most common alternative to a cross-legged meditation posture is to kneel. Kneeling is ideal if you're uncomfortable sitting cross-legged or in a chair. If you choose to kneel, try placing a cushion or bolster under your bottom and a mat under the knees to prevent any pain or numbness during your practice.
The takeaway.
No matter which type of meditation you prefer, the right meditation chair can help support you physically and cognitively during your practice. The best meditation chair for you is the one that feels comfortable, aids your posture, and allows you to dip into that relaxed state. Not sure if a chair is your thing? Try one of the best meditation pillows instead.