Certified holistic nutrition consultant
Certified holistic nutrition consultant
Lindsay Boyers is a nutrition consultant specializing in elimination diets, gut health, and food sensitivities. Lindsay earned a degree in food & nutrition from Framingham State University, and she holds a Certificate in Holistic Nutrition Consulting from the American College of Healthcare Sciences.

Expert review by
Naturopathic Physician and Registered Dietitian
Jaime Schehr, N.D., R.D., is a nationally recognized expert in integrative medicine and nutrition, based in New York City. She holds dual licenses as a naturopathic physician and a registered dietitian, from University of Bridgeport and University of Nebraska respectively.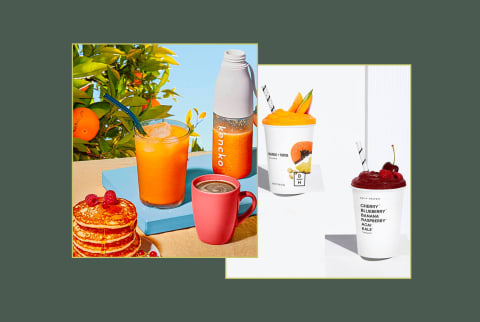 February 3, 2023
Our editors have independently chosen the products listed on this page. If you purchase something mentioned in this article, we may
When it comes to getting in a nutrient-dense meal in a pinch, smoothies can be one of the quickest, easiest options. But, let's be honest, sometimes the thought of finding the right recipe, gathering all the ingredients, and setting up your blender (not to mention the impending cleanup) can be enough to make you reach for a less satisfying option. The best smoothie delivery services take the fuss out of this process by setting you up with a healthy option in a pinch, no recipe hunting or grocery shopping required.
We've all played trial and error with ingredient proportions, often left with excess produce at the end of the week when we over-ambitiously shopped for smoothie supplies. With smoothie delivery services, you're sent either ready-to-blend ingredients or a premade smoothie that can be tossed in your freezer or fridge. 
Of course, not all smoothies are created equal in terms of quality, taste, subscription offerings, and so on. To help you determine which is right for you, we tested, researched, and chatted with functional medicine dietitian Sam Schleiger, M.S., RDN, for some expert advice. Below, find our picks for the best smoothie delivery services—so your nutrition never has to suffer, even if you're short on time.
The best smoothie delivery services of 2023:
How to choose.
With so many options available, it can be tough to decide which smoothie delivery service is best for you. To narrow things down, consider the below options.
Ingredients: 
"Be careful with gums and other additives that may provide a thicker consistency, and be cautious with non-food sweeteners like sugar or artificial sweeteners," says Schleiger. On the sugar front, many smoothies already contain high sugar content from fruits, so there's truly no need for added sugar or artificial sweeteners. 
Cost:
Take your budget into account when deciding which is best for you. Smoothie delivery services can save you money in the long run since they cut back on wasted ingredients. That said, some are definitely on the higher end budget-wise. This is typically a situation where you get what you pay for—so if quality ingredients are important to you, you'll likely spend a bit more. Schleiger says different delivery options can also help you budget more effectively and help you decide if the cost per smoothie is worth it.
Nutritional content:
Some options on our list are high in protein, while others go heavier on fruits and greens. "A quality green smoothie provides a plethora of nutrients derived from a variety of fruit and vegetables, all in one serving," Schleiger says, adding that, depending on what's in them, green smoothies typically offer "an excellent source of vitamins, minerals, and bioactive plant compounds and are great for supporting overall immune health and the gut microbiome." As a rule of thumb, Schleiger recommends choosing smoothies with at least 20 to 25 grams of protein per serving.
How we picked:
Food quality is always top-of-mind at mindbodygreen. We prioritized companies that use organic ingredients, with no unnecessary additives. Per our expert's recommendation, we avoided gums and "non-food sweeteners."
Delivery services can get redundant pretty quickly if they don't offer a variety of choices. We made sure the companies on our list have at least a handful of smoothie recipes to choose from.
We took our expert's input into consideration in terms of ingredients to look out for and to avoid, as well as ideal nutritional content.
Any food delivery service offers some level of convenience, but we stepped our standards up a notch by making sure each option on our list offers either premade smoothies or single-serve pouches that are easy to prepare. We paid close attention to those that require no commitment.
Our picks for the best smoothie delivery services of 2023:
Best premade: Splendid Spoon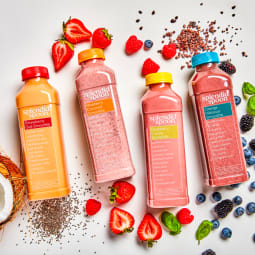 Pros:
No commitment necessary
Includes functional ingredients
Cons:
Smoothies come in plastic bottles
Delivery frequency: Weekly
Dietary restrictions: Gluten-freePlant-based
Splendid Spoon is ideal for those who want to maximize the convenience factor and don't want to mess with a blender at all. The company has 22 pre-made smoothies that are already blended and ready for you to drink right out of the bottle. The smoothies are made with mostly organic produce, and include plenty of functional ingredients (also organic) like spirulina, cacao, wheatgrass, and maca.
You can choose a breakfast plan that includes seven of these pre-made smoothies, delivered weekly, or an on-demand box that allows you to purchase whenever you want. There are also various smoothie bundles, like a 10- and 15-pack of smoothies, and a smoothie/soup mixture. If you want a full meal delivery service, you can also combine the smoothies with lunch and dinners for a full day's' worth of sustenance.
Our executive editor, Hannah Margaret Allen, is a stickler for ingredients and loves the convenience of Splendid Spoon. Read her honest review.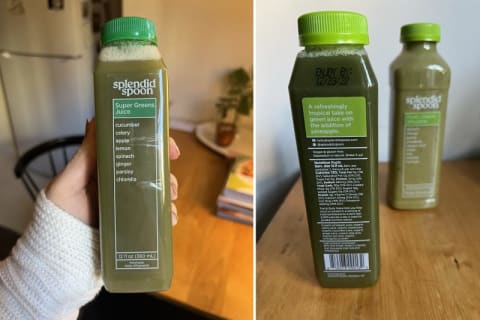 Best soup & smoothies: Daily Harvest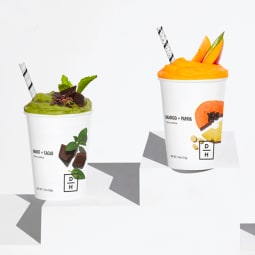 Pros:
Can mix and match from entire menu
Most ingredients are organic
Cons:
Menu doesn't change regularly
Some find the portions to be too small
Delivery frequency: Monthly
Dietary restrictions: Vegan
One of the first smoothie delivery services on the scene, Daily Harvest now offers quite the variety of dishes, such as soups, oat bowls, nut milks, and harvest bakes. It is a subscription service, but instead of committing to one type of food, you choose a small, medium, or large box and curate it with whichever smoothies, drinks, or foods you'd like.
Daily harvest's meals arrive frozen and preportioned out into single-serve containers. For the smoothies, you'll add your liquid of choice, blend, and can pour it right back into the cup to enjoy. The soups are also ready-to-heat (just add water or broth). Not all ingredients are organic, but the majority are—and the entire menu is vegan. 
Our commerce editor, Carleigh Ferrante, is a huge fan of Daily Harvest—so much so that she's been known to order an entire large box of just the chocolate blueberry smoothies. Her rec? Blend in your favorite whey or plant-based protein powder, along with an extra handful of greens, to make the smoothies more filling and nutrient-dense. 
For more on Daily Harvest, check out mindbodygreen deputy commerce editor Braelyn Wood's full review. We've also included Daily Harvest in our roundups of the best frozen meal delivery services, the best vegan meal delivery services, and the best organic meal delivery services, among others.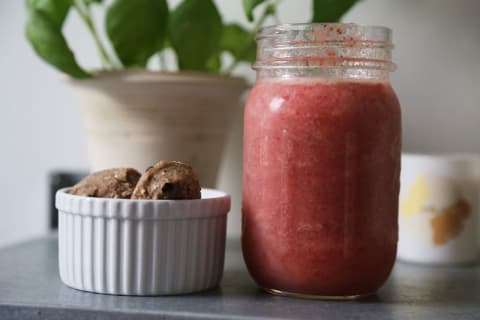 Image by Braelyn Wood/MBG creative
Best organic: SmoothieBox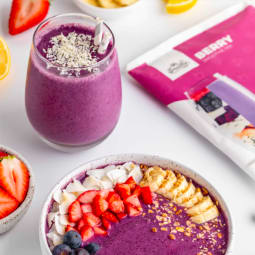 Pros:
Organic ingredients
Flash frozen for freshness
Cons:
No one-time order option
Low in protein
Delivery frequency: Monthly
Dietary restrictions: VeganDairy-freeGluten-freeSoy-freeEgg-free
SmoothieBox is a subscription smoothie delivery service making it easy to simply blend and go. Ingredients are flash frozen and portioned into separate smoothie packs that you can store in your freezer until you're ready to make them. To prepare the smoothie, mix with your favorite liquid and any preferred add-ins. The process takes less than a minute.
With the exception of any that include mandarin oranges, every smoothie ingredient is organic. The recipes include fruits, vegetables, seeds, nuts, and other nutrient-rich ingredients such as coconut water and ginger. When signing up, you can choose from three curated boxes, or a build-your-own-box to mix and match flavors based on your preferences. The boxes contain 20 to 25 smoothie packs, depending on which option you choose. 
On the brand's site, the reviews for each smoothie are primarily positive. Many people say the service has saved them time and money, and that the smoothies are great for when you're on the go. One writes, "I found these smoothies taste good and are super easy to use. No more buying a bunch of produce at the store hoping it doesn't go bad before you can use it all. Plus, I don't have to spend the time washing, cutting up the fruits and veggies so it saves me more time."
Best affordable: Kencko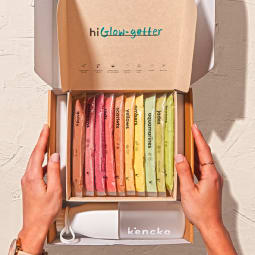 Pros:
Don't need a blender
Longer shelf life than others
Cons:
Low in protein without add-ons
Can be difficult to mix
Delivery frequency: Monthly
Dietary restrictions: Vegan
Kencko does things a little differently than the other options on our list, and it's a great option if you're on a budget. Instead of shipping frozen ingredients, Kencko flash freezes organic fruits and veggies and then dries them out to create a smoothie powder. This process removes all the water, increasing the packets' shelf life, but retains the fiber so you get all the goodness of the produce in a more convenient package. To prepare the smoothies, simply mix with water and shake or blend. You can also add ice, frozen fruit, or additional ingredients as desired.
If you're worried about additives in a powdered smoothie, rest assured: the company has an extensive banned-ingredient list that includes various sweeteners, preservatives, coloring agents, thickeners, and more. In other words, the ingredients in each pouch are clean and high-quality. Kencko offers three different boxes with 20, 30, or 60 smoothies. The best part? You're able to handpick each flavor based on your own preferences. You can also add on protein packs if you want to up the plant protein content in your smoothie.
Kencko has an overall rating of 3.9 out of 5 on Trustpilot, and most negative comments are from people who were frustrated by the automatic subscription renewal. Customers tend to love the convenience and ingredients, with emphasis on how fresh the smoothies taste.
Advertisement
This ad is displayed using third party content and we do not control its accessibility features.
Best keto: Blendtopia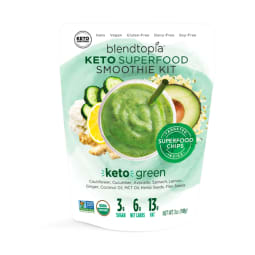 Pros:
All organic ingredients
No commitment necessary
Cons:
Limited flavors
Some reviewers don't love the texture
Delivery frequency: 1, 2, 4, or 6 weeks; no commitment necessary
Dietary restrictions: VeganGluten-freeKeto
Smoothies can have a high carb content, but that doesn't mean there aren't any keto options—you just have to find the right mixture. Blendtopia offers three keto-certified smoothie mixes that each have 5 to 7 net carbs per serving. Every smoothie has healthy fats from ingredients such as avocado, MCT oil, and virgin coconut oil. Even better? All ingredients are organic.
You can build your own box of 12, 18, or 24 smoothies, or choose the Keto Variety Pack, which includes four pouches of each keto flavor. The ingredients are flash frozen at peak freshness to retain nutrients—so when your smoothies arrive, you'll simply need to blend the ingredients with the keto-friendly liquid of your choice.
Blendtopia has an average rating of 4.4 out of 5 stars and hundreds of reviews. Keto devotees rave about the options, saying they're so happy to have smoothies back in their life. "I'm totally loving these new keto smoothies!" writes one five-star reviewer. "I've made both smoothies and smoothie bowls with the berry kits and it's so delicious!"
Best protein smoothies: Shake Please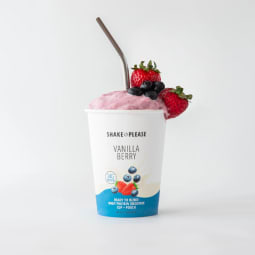 Pros:
Higher protein content than other options
Clean ingredient list
Cons:
No option for plant-based protein powder
Ingredients aren't organic
Delivery frequency: Monthly
Dietary restrictions: Gluten-freeHigh-protein
Again, Schleiger recommends choosing smoothies with at least 20 to 25 grams of protein per serving—and while many smoothies are loaded up on fruits and vegetables, they tend to fall short in the protein department. The Shake Please lineup, however, prioritizes whey protein as a main ingredient. 
There are four flavors to choose from: vanilla berry, strawberry banana, pineapple berry, and chocolate peanut butter banana. And, while that's not a ton of variety, each smoothie provides 24 to 33 grams per serving, along with a clean, short ingredient list. You can sign up for 8, 16, or 24 smoothies per month. Each box includes frozen fruit cups and protein pouches. When you're ready to make a fresh smoothie, simply empty the cup and pouch into a blender, add your favorite liquid (the company recommends water) and blend.
Shake Please doesn't have a ton of reviews, but it's earned a 4.1-star rating on Trustpilot from the handful that are there. Customers love the taste and the fact that it makes hitting protein goals easier. One person who says the smoothies are very easy to prepare, writes, "Shake Please is the most delicious smoothie I have ever tasted with fresh fruit and protein…My fitness instructor recommended that I get more protein every day to help with muscle and with Shake Please it is much easier for me."
Advertisement
This ad is displayed using third party content and we do not control its accessibility features.
Best green smoothies: The Frozen Garden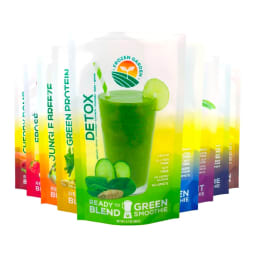 Pros:
Lots of low sugar ingredients
No commitment necessary
Cons:
Ingredients are not organic
$49 order minimum
Delivery frequency: One-time order
Dietary restrictions: VeganHigh-proteinKeto
For a healthy green smoothie that packs a huge punch on flavor and nutrition, The Frozen Garden is a great pick. Instead of packing each smoothie pouch with only fruit, the company uses lots of lower sugar green ingredients like zucchini, avocado, basil, mint, and spinach. They also pack in other nutrient-dense add-ins like cranberries, walnuts, coconut milk, pumpkin seeds, hemp seeds, and chickpeas. 
Mix and match from about 15 individual flavors, or opt for curated packs like a Keto Smoothie Pack or a Protein Smoothie Pack. The smoothie ingredients arrive in frozen pouches that make two 8-ounce servings or one 16-ounce drink—just add the liquid of your choice. This isn't a subscription service, so you can place a one-time order if you don't want to commit to recurring deliveries. 
The Frozen Garden has overwhelmingly positive reviews, with an average rating of 4.7 out of 5 stars on the company's website. Customers say these smoothies are nutrient dense, without too much fruit. One five-star reviewer writes, "I've been enjoying Frozen Garden smoothies for 2 months now. I started with their starter pack (which contains all 9 of their smoothies)…I've been having 2 or 3 per day and eating sensibly during these 2 months and have lost 10 pounds (would like to lose 5 more). They are so convenient and easy to prepare: Add water, blend and drink. Can't get much easier than that."
FAQ
Can smoothies be shipped?

Yes. Smoothie delivery services ship premade smoothies or ready-to-bend smoothie kits directly to your door.
Can you buy ready-made smoothies?

Yes. Companies such as Splendid Spoon provide bottled smoothies that are ready to drink, no preparation necessary.
The takeaway.
Smoothie delivery services can help ensure that you have healthy, filling options on hand when you don't have time to grocery shop or meal prep. Just make sure you pay attention to the nutritional content and ingredients (and where they're sourced from). And, if you're enjoying a break from the grocery store, check out our recommendations for healthy meal delivery, keto meal delivery, and vegan meal delivery.