To some, socks are just socks.
But the best running socks can make the difference between a run where you don't even notice your feet because they are dry, supported, and blister-free, and a run that's cut short.
No one wants bloody ankles and sweat-logged socks that smell so horrid you skip the laundry and throw them directly in the garbage.
Here are some things to look for to find your best running socks, plus a few socks to consider.
Whether you're just starting to run, are working with a running coach, want a running weight-loss program, or have several marathons under your sports-gel-filled running belt, these socks will keep your feet happy.
What to Look for in a Running Sock
Although the best running socks come down to personal preference, there are a few standard things that will keep your feet as dry, comfortable, and blister-free as possible:
Avoid cotton. This fabric loves to soak up sweat, which can lead to blisters. Instead, choose a sweat-wicking material. Many runners love merino wool, which keeps you dry and keeps your feet warm in cold weather and cool in hotter temps. It's also resistant to odors.
Seek support. Socks with a band around the arch give extra support that you'll appreciate on longer runs.
Pair them up. Socks designed specifically for the right foot and left foot mean a better fit. A better fit means less chance of rubbing, chaffing, and discomfort.
Short vs. tall. Wear socks of a height you like best; however, for trail running, crew socks can help protect your legs from debris that you'll inevitably kick up.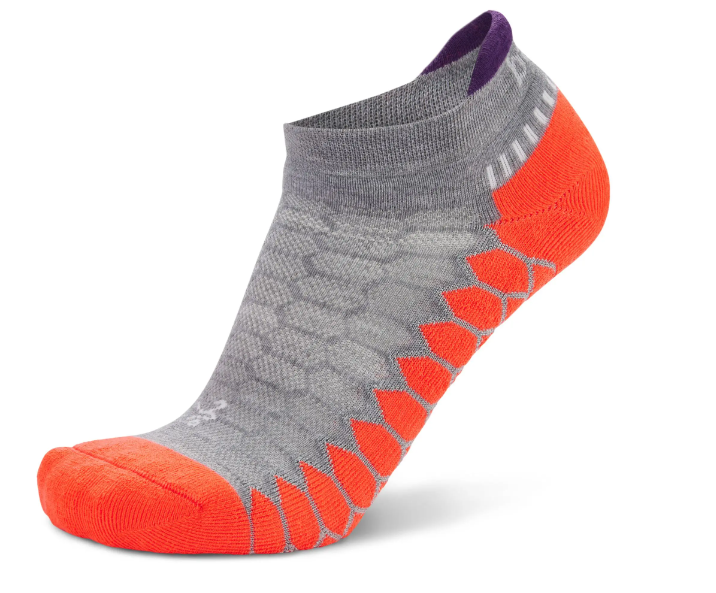 Material
Balega uses a proprietary blend of moisture-wicking fibers called Drynamix that's coated with silver chloride ions.
This isn't a gimmick; the silver fights germs and, therefore, odors.
Cushion
Plenty of padding offers support that hugs your feet without constricting.
Height
No show.
Features
These ultra light, comfortable socks keep your feet cool and stay in place thanks to the deep heel pockets.
However, some say the socks aren't the most durable, plus they tend to hold onto moisture, leaving you with dry feet but soppy socks on hot or wet runs.
Also, these are not left-right foot specific.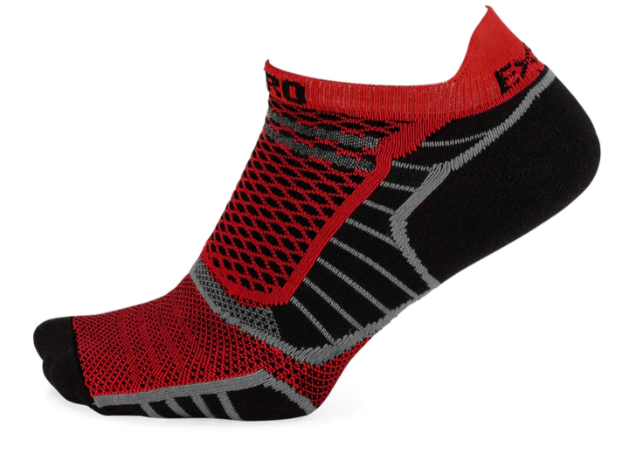 Material
These socks feature nylon, polyester, and NanoGLIDE®, which are fibers designed to be durable, wick sweat, dry quickly, and reduce friction so you can say good-bye to blisters.
Cushion
Thorlos somehow made these socks 30 percent lighter than previous models yet just as supportive.
Height
No-show.
Features
Designed for long runs and races, these socks don't give out. They keep you dry and cool from your warm-up to your post-race bagel, even if you tend to soak other socks.
On the downside, some say these socks fall down and are so thin you may need to size down your shoes to prevent slipping. They're also not left-right specific.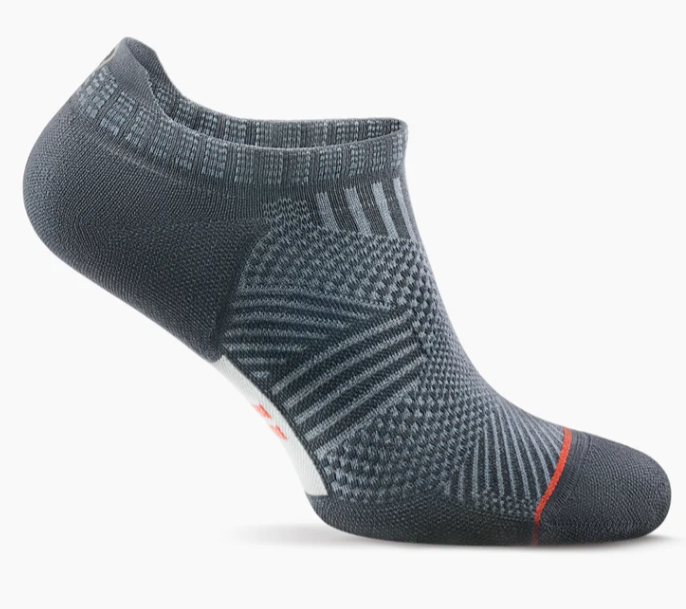 Material
These breathable socks are made from 100% recycled materials (mainly plastics recovered from the oceans) and treated to block odor-causing bacteria from growing.
Rockay is so confident they won't stink that the company encourages you to wear them more than once between washings to save water and energy.
Cushion
The materials — nylon, polyamide, and elastane — are actually supportive. And, naturally, there's arch support and cushioning on the entire bottom.
Height
Ankle.
Features
Compression, durability, anti-blister construction, and a lifetime guarantee (they'll replace worn-out or torn socks) make these popular with green-minded runners.
Reflective logos on the back of the ankles are a plus for evening runners. And if you buy them in bulk (three, five, nine, or 12), you save money.
At the same time, some say Rockay socks run large and can cause blisters.
4. Bombas Performance Running Ankle Socks (Men's/Women's)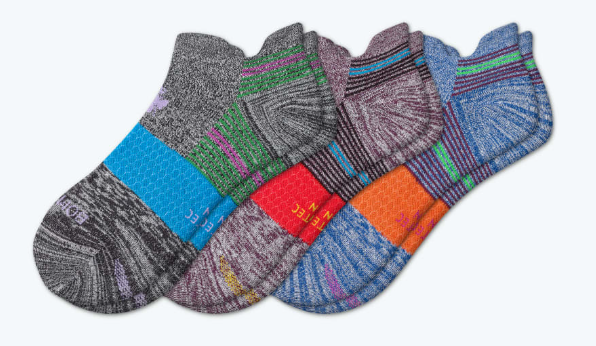 Material
A lightweight, breathable blend of polyester, nylon, and cotton wicks sweat.
Cushion
Extra padding in the toes and heels provides support where you most need it. There's also arch support found in all Bombas socks.
Height
Ankle.
Features
Bombas makes you feel good in two ways: The socks are super comfortable, and when you buy a pair, they donate another pair to a homeless shelter.
The left-right specific socks equal a better fit for each foot, while vents keep the air flowing to avoid hot spots.
Some say the socks aren't the most durable, however, with their "happiness guarantee", if you need a different size or your socks acquire holes, you can return, exchange, or replace them.
5. Darn Tough Vertex No Show Tab Ultra-Light Cushion Socks (Men's/Women's)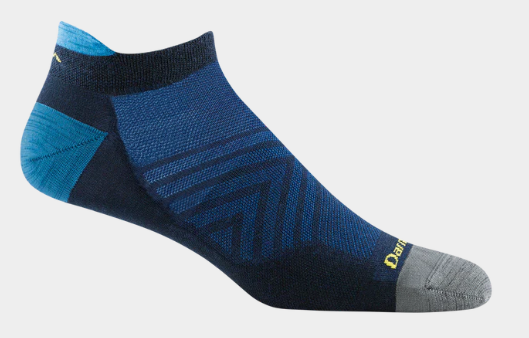 Material
These odor-resistant merino wool socks are super light, breathable, and keep your feet dry.
Cushion
The entire bottom of the socks has light padding, with more in the toes and heels.
Height
No-show.
Features
Thanks to merino, these durable socks keep your feet cool in the summer and warm in the winter, plus they don't budge or slip.
But while they have a 4.9/5 rating, some users say the socks are thin and can feel tight in the toes for women in particular.
Also, they are not specific to each foot.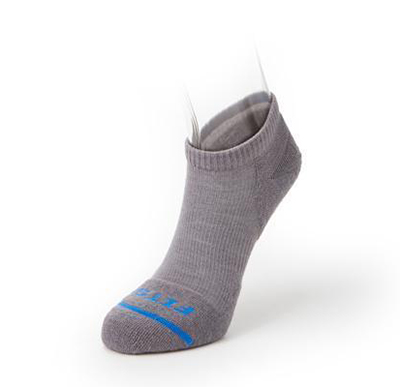 Material
Merino wool with a little nylon, polyester, and lycra combines for sweat-wicking, cooling power.
Cushion
Like other running socks, these have more support in the toe and heel, plus compression support in the arch.
Height
Ankle.
Features
Although they're not left-right specific, FITS socks hug your foot and stay put thanks to cups in both the heels and toes.
Lightweight but not paper thin, the low height falls just above your shoe line; beware that some say the no-show runner socks can fall down while you're moving.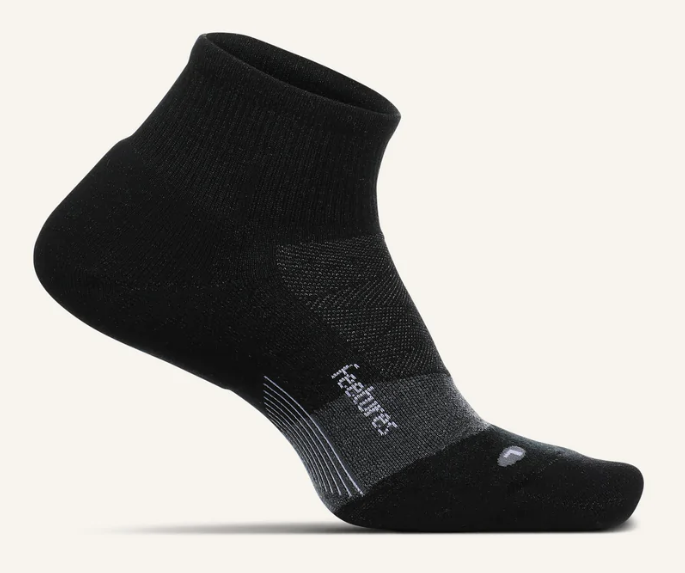 Material
No surprise, these are made with merino wool. They also contain Tencel® fibers, which are derived from renewable wood sources.
It sounds odd and uncomfortable, but these fibers pull moisture away from your feet.
Cushion
Arch compression plus heel and toe support protect your high-impact spots.
Height
Mid-crew.
Features
These left-right specific socks further hold your feet and stay in place because of the deep-pocket heel and snug arch.
While that helps prevent blisters, some report the socks can be a bit tight and take time to dry out if you sweat heavily or get caught in the rain.
8. Smartwool PhD Run Cold Weather Mid Crew Socks (Men's/Women's)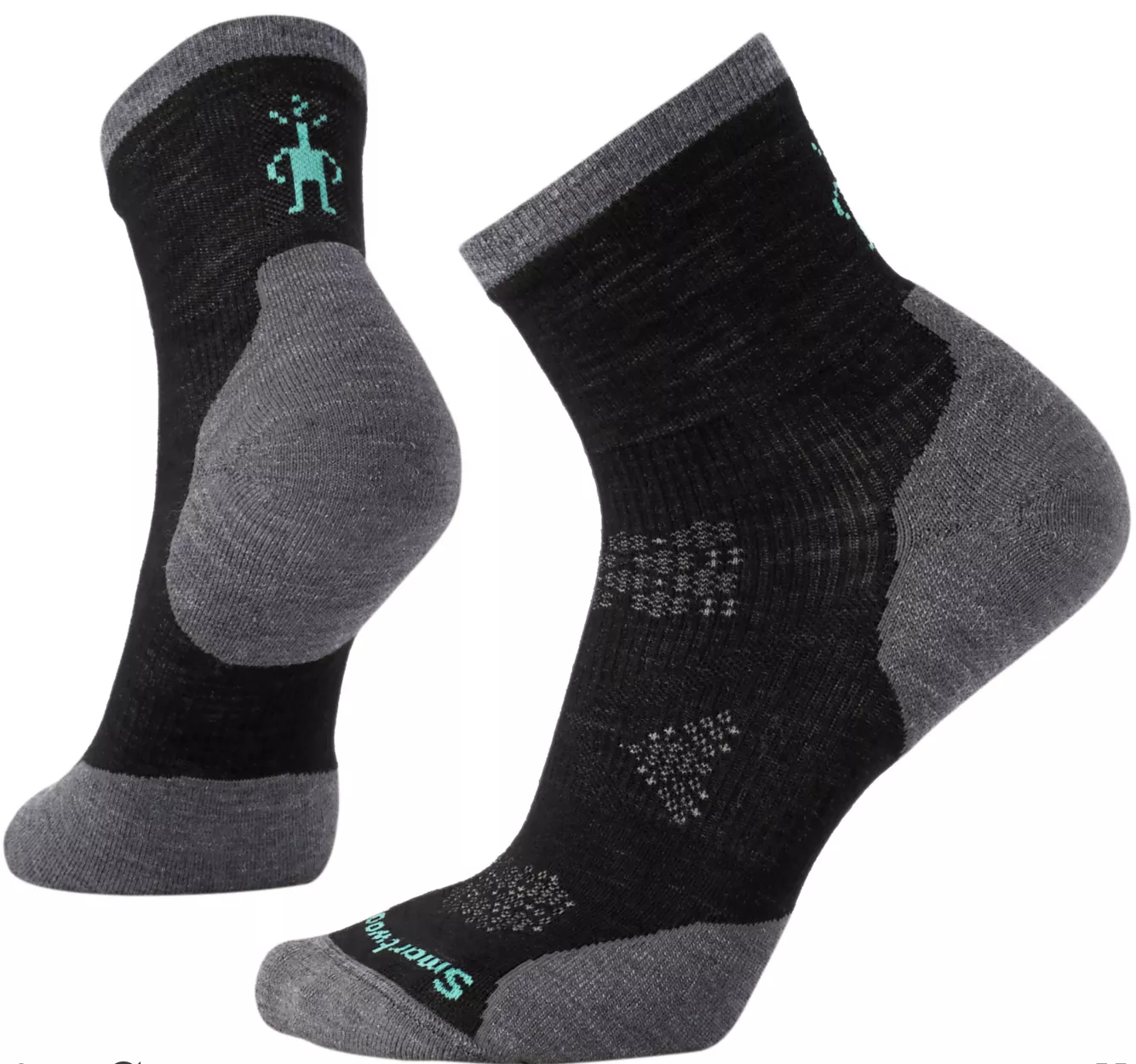 Material
As the brand name implies, Smartwool uses a merino blend to fight off the cold, so your toes don't freeze on long, snowy runs. But don't worry, mesh ventilation means your feet also stay dry.
Cushion
Support in the heel and ball of the foot let you know these are made for runners.
Height
Mid-crew.
Features
Put a regular sock on one foot and put a PhD sock on the other, and you'll see a more-defined outline of your toes in the PhD.
And Smartwool uses an even slimmer fit with a narrower heel for women's socks. For everyone, that fit leads to less sliding and bunching.
However, all the cushion in these socks can make your running shoes a bit tight, and they are not left-right specific.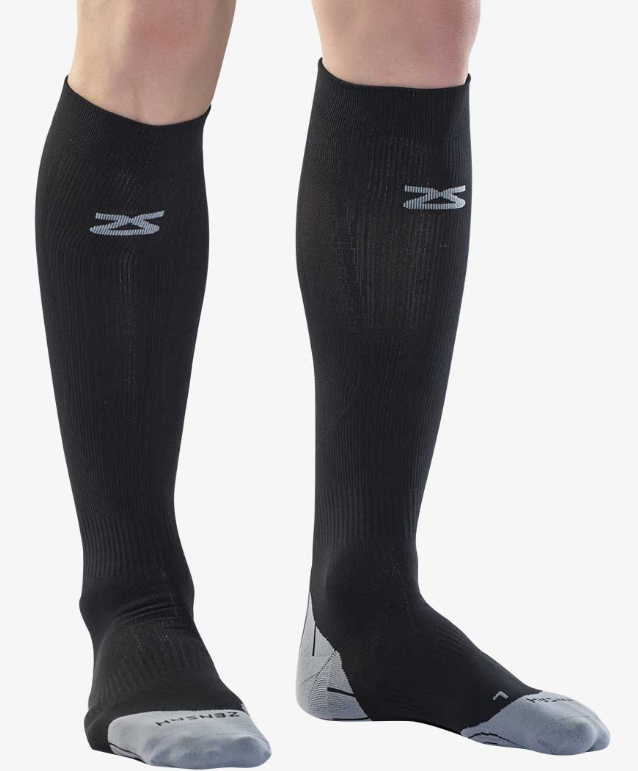 Material
Polyamide and elastane provide the graduated compression (the amount of compression is most significant in the foot and ankle and lessens as you reach the top of the sock) some runners seek to ease shin splint pain and prevent injuries.
Cushion
The lightly padded heel and toe protect those overused parts while ribbing gives your arches and ankles added stability.
Height
Knee.
Features
Lightweight, seamless, and designed to breathe and regulate heat, these socks keep your legs cool and chafe-free.
They're durable and made specifically for your left and right foot.
Just note these can be hard to put on because they're so compressive, and, as with most compression socks for running, they're pricey.
10. C Tall Compression Socks 3.0 (Men's/Women's)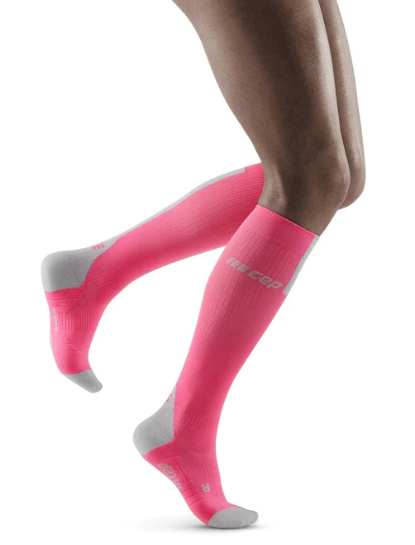 Material
Polyamide and spandex provide a compression level of 20 to 30 mmHg to help sore calf muscles recover faster and relieve shin splints.
Cushion
On top of the compression, you'll feel the added support under your heels and toes, as well as snug arch support that fits individually to your left and right foot.
Height
Knee.
Features
Graduated compression CEP socks breathe and wick moisture, but, again, they're expensive.