mbg Beauty Director
mbg Beauty Director
Alexandra Engler is the beauty director at mindbodygreen and host of the beauty podcast Clean Beauty School. Previously, she's held beauty roles at Harper's Bazaar, Marie Claire, SELF, and Cosmopolitan; her byline has appeared in Esquire, Sports Illustrated, and Allure.com.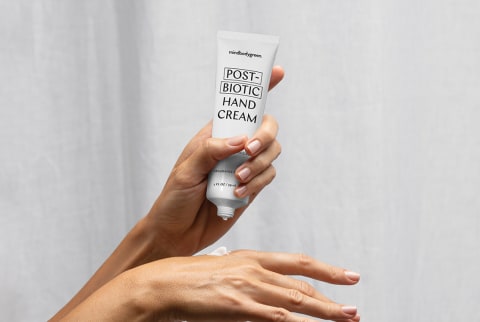 January 5, 2023
Oh how my hands have missed our postbiotic hand cream. I've been missing the bestselling formula—even as the beauty director, I didn't have my own private supply—and finally, it's back in stock. A very delightful way to start 2023!
And to celebrate its return, I wanted to wax poetic about the formula a bit. Here, why it's one of my all-time favorite products—and why I think you should give it a try too. 
Advertisement
This ad is displayed using third party content and we do not control its accessibility features.
A quick refresher on mindbodygreen's postbiotic hand cream. 
This cream is a decadent, rich butter that feels as if hydration is bursting onto the skin and then is soaked up quickly—meaning your hands don't feel sticky, oily, or goopy after application. We took very special care in perfecting this texture, and we went through many rounds and versions before we landed on this universally appealing one. So once it was out in the market, it brought me so much joy to hear that users and mindbodygreen community members enjoyed it as much as we did! 
But of course, the incredible ingredient profile is truly why this has become a bestselling product: The high-quality, innovative blend nurtures your skin microbiome, deeply hydrates, provides antioxidant protection, and improves the appearance of the skin instantly and over time. 
Our special strain of postbiotics provides skin with very specific fatty acids and peptides that have been shown to soothe inflammation, help protect skin against environmental stressors, regulate microcirculation, and activate the skin's immune system. For added support, we also included prebiotics to make sure that the living flora already present on the skin are being taken care of, too. There are several kinds of prebiotics to use, and we selected one made from microgreen algae that has been shown to have a soothing effect on the skin by preventing inflammation triggered by an unbalanced microbiome. 
The hydrating base contains several botanicals to moisturize and soothe the skin: shea butter, moringa seed oil, aloe vera, and oat oil. Each of these individually is a powerful natural ingredient, but together they're far more robust in their efficacy. 
And to amp up its skin-supporting benefits, we included powerful antioxidants like coenzyme Q10, a potent antioxidant naturally found in the body, and a watermelon, lentil, and apple complex that delivers a wide range of nutrients and benefits. These help support your skin barrier and offer free radical protection. They also provide many aesthetic benefits, such as brightening tone and smoothing out fine lines.
While we believe in highlighting what's in the formula, we also know that people are curious about what we left out. We excluded many of the common ingredients buzzed about currently, including parabens, phthalates, mineral oils, petrochemicals, common allergens, formaldehyde and formaldehyde releasers, silicones, BHA, BHT, and over 1,000 other ingredients regulated by the European Union. We also use an eco-cert-verified natural preservative system that has been tested to keep it free from microbial contamination—as pathogenic bacteria are just as harmful as any "toxic" ingredient.
Advertisement
This ad is displayed using third party content and we do not control its accessibility features.
Why we updated the packaging.
It's the same great formula, just in new packaging made with 46% PCR plastic. While we believe aluminum is an eco-friendly packaging material that we are continuing to explore for other products, we no longer felt it was best suited for this hand cream. In addition, due to supply chain concerns, we felt it logistically wasn't the best route to keep our bestselling product in stock. We also heard valuable feedback from users who said they wanted packaging that was easier to use—and get the most out of! 
Given all of these reasons, we decided to update the packaging to 46% PCR plastic, which was the highest concentration of recycled plastic recommended for this formula available to us. We are committed to sustainability in every aspect and part of the process, and we firmly believe this is the best solution for us going forward. 
As always, the products are shipped to you in boxes that are made from 100% recycled paper and are fully curbside recyclable as well. And the formulas are made in a factory powered by 100% wind energy. Sustainability is at our core, through and through. 
The takeaway. 
I'm so excited to have one of my all-time favorite products back in my hands and hopefully yours too. The bestselling formula is truly transformative—it nurtures the microbiome, maintains skin barrier health, provides antioxidant benefits, and improves the look of the skin with time.