Contributing writer
Contributing writer
Jamey Powell is a writer and editor living in Brooklyn, NY. Previously the senior market editor at Healthline.com, she has years of experience scouring endless product reviews and testing out the latest and greatest products in the sleep, fitness, and nutrition markets.
Medical review by
Optometrist
Jeffrey R. Anshel, O.D. is an optometrist and published author who takes a holistic and nutritional approach to eye health.
December 16, 2022
Our editors have independently chosen the products listed on this page. If you purchase something mentioned in this article, we may
It's no secret that we spend more time in front of screens than ever—but here's one thing you might not know: blue light is not all bad. While blue light screen protectors are a great way to mitigate the effects of artificial blue light, natural blue light waves are actually all around us. And, to some degree, our bodies depend on it. Blue light is naturally produced by the sun, and low exposure to these light waves is necessary to keep our circadian rhythm functioning properly1.
So why does blue light get such a bad rap? Too much artificial blue light can disrupt your internal clock1. Overexposure from excessive screen time can also cause eye strain, headaches, and blurry vision. There are ways to limit your exposure, such as less scrolling before bed, or turning off your TV a bit earlier. But for a lot of us, our work day is tied to a computer.
We've done the research to round up the best blue light screen protectors for every type of screen—so you can keep your body functioning at its prime, no matter how many hours you're logging on the computer. Find our picks below and learn how to choose the best blue light screen protector for you.
The best blue light screen protectors:
What is a blue light screen protector?
Blue light screen protectors are panels of tempered glass or acrylic that fit the screen of your device. They are meant to filter out a portion of the blue light, without totally changing your screen's appearance or display quality.
It's important to note that while there's a lot of anecdotal evidence supporting the idea that blue light filtering glasses and screen protectors can help reduce eyestrain, more scientific research needs to be done to back it up. A 2017 review of three studies suggests that there's not currently enough evidence to determine the impact these products have on our eye health and sleep-wake cycles.
"Some studies suggest that devices like monitors and cellphones have a blue light wavelength that affects vision in two ways: The first is that it's harmful to your eyes and can cause possible long-term damage," Todd Handel, an optician at East Coast Optometry, previously told mindbodygreen. "The second, more important effect is that blue light can affect circadian rhythms and negatively impact your sleep patterns."
According to board certified ophthalmologist Yuna Rappaport, M.D., M.P.H, the issue is more about our screens in general. "Screens in general cause eye strain," she explains. "We typically have a blink rate of 18 times a minute, and when we are on screens it is down to around 6—this causes dry eye and irritation." 
While more research still needs to be done to prove their effectiveness, there is no reason to believe blue light screen protectors could be harmful. Particularly for the sake of your sleep, positive reviews suggest that these products may be worth trying—that is, of course, if you're willing to spend a few bucks on the experiment. In addition, Rappapport suggests implementing the 20/20/20 rule. "Every 20 min look 20 feet away for 20 seconds. Keeping lubricating drops next to your computer to use is also a great idea," she says.
How we picked:
We read hundreds of reviews (the good and the bad) from customers who use these protectors on a regular basis. This helped inform our selections from a more holistic perspective.
We hunted for protectors to fit a variety of different devices. All of the brands on our list cater toward various sizes and models.
Pricing varies depending on device, but we chose mid-range products for each category, to ensure we are sharing the most budget-friendly, yet effective opinion (without compromising on quality).
Most of these products have generous replacement policies or trial periods. One even has a few sustainability perks, which we love to see in what is such a typically wasteful industry!
Our picks of the best blue light screen protectors:
Best for a laptop: Vintez Blue Light Blocking Screen Panel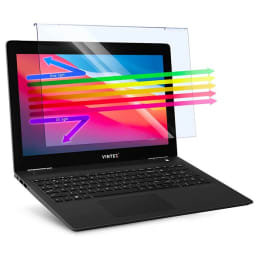 Pros:
Doesn't use adhesive on your screen
Lots of size options
Sizes available: iMacMacbookPC
Anti-Glare: No
Blue light filter: 61%
Warranty: Not specified
Return policy: 30 days
If you're uneasy about sticking something to your laptop screen, this panel is a great pick. It slides over the top of your screen to provide blue light-filtering without any of the potential application issues (like those pesky air bubbles). The 5-layer design is said by the brand to filter out up to 61% of blue light.
This screen protector has over 1,700 ratings and a 4.5 out of 5 overall rating on Amazon. Reviewers say it works for all laptop sizes and models, including MacBooks, and that it's a breeze to put on. Plus, it has a lifetime replacement guarantee. On the con side, some customers complain that there isn't an anti-glare finish.
Best for a TV: VizoBlueX Anti-Blue Light TV Screen Protector
Pros:
Easy application
Several size options available
Cons:
Some reviewers say sizing is off
Sizes available: 32 inch39-40 inch42-43 inch49-50 inch55 inch65 inch
Anti-Glare: Yes
Blue light filter: 100%
Warranty: Not specified
Return policy: 30 days
Made from optical grade acrylic, this screen protector is a larger option designed specifically for your TV. It's available in several sizes, ranging from 32 to 65-inches. The best part? Reviewers say it doesn't interfere with image quality—in fact, several people mention that it's great for reducing glare.
Many customers say this panel is easy to attach to the TV, noting that it doubles as a screen protector, too. Just be sure to read the sizing instructions, because some folks say the panel they received was oversized.
Before you purchase, double check that your TV doesn't already have a blue-light reduction option in its display settings. If it does, that might be just as effective.
Advertisement
This ad is displayed using third party content and we do not control its accessibility features.
Best for a monitor: Ocushield Anti Blue Light Screen Protector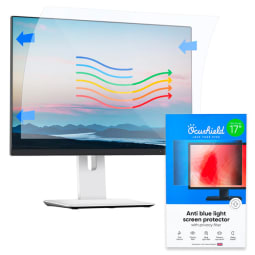 Pros:
Anti-glare
Privacy filter
100-day trial
Cons:
No lifetime guarantee
Reviews are mixed about application difficulty
Sizes available: iMacMacbookPC
Anti-Glare: Yes
Blue light filter: 45%
Warranty: 1-year (if registered)
Return policy: 100 days
Another excellent pick for your laptop or desktop monitor, this screen protector was designed by optometrists in the UK. It filters up to 45% of blue light and is a great option for the office, with an anti-glare finish and side-view privacy filter. You'll find this monitor protector in a wide range of sizes to fit your device.
Most reviewers love this protector, with a lot of positive feedback on the brand's website claiming a decrease in migraine symptoms and eye strain, along with an appreciation of the privacy filter and anti-glare design. On the con side, several people say they had a hard time with application and were left with bubbles on their screen.
Best for an iPad: EyeJust iPad Blue Light Blocking Screen Protector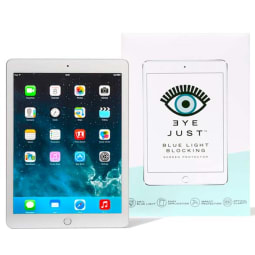 Pros:
Doesn't interfere with display quality
2-year guarantee
Cons:
May not work with all iPad cases
Sizes available: iPad mini 7.9 inchiPad 9.7 inchiPad 10.2 inchiPad 10.5 inchiPad Pro 11 inchiPad Pro 12.9 inchiPhoneLaptop
Anti-Glare: Yes
Blue light filter: Not specified
Warranty: 2-year
Return policy: 30 days
EyeJust makes a range of blue light blocking glasses and screen protectors. This iPad screen protector is a great choice for anyone hoping to reduce blue light, without sacrificing the clarity of their device's display. It's a clear, shatterproof shield designed to go on smoothly (meaning no air bubbles to worry about). What's more, it's available in many sizes, as small as the iPad mini and as large as the 12.9-inch iPad Pro.
Shoppers have a lot of good things to say about the customer experience team and the effectiveness of this brand's products. People say they "noticed such a difference after just one day" of using this screen protector. It's worth noting that some wish the size was a little smaller, mentioning that removing their iPad case sometimes causes the edges to pull up.
Advertisement
This ad is displayed using third party content and we do not control its accessibility features.
Best for an iPhone: Body Guardz Pure 3 EyeGuard Blue Light Screen Protector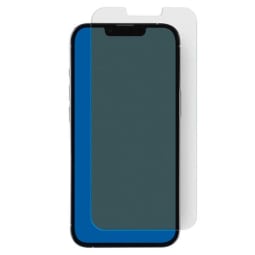 Pros:
Uses 30% recycled glass & paper packaging
Free lifetime replacements
Cons:
Some reviews suggest it may tint your display
Sizes available: iPhoneGalaxyMotorolaGoogle PixelLG
Anti-Glare: Yes
Blue light filter: 43%
Warranty: Lifetime
Return policy: 30 days
This iPhone screen protector is a highly-rated pick with some appreciated sustainability perks. The design includes 30% recycled glass and the brand uses eco-friendly packaging. While the price of this tempered glass cover may seem steep, the company offers free lifetime replacements (you'll only pay for shipping). The brand says this filter blocks up to 43% of blue light from your screen, and several reviewers note that it makes their eyes feel better.
Customers love the lack of excess packaging, easy application, and the screen's impressive resistance to cracks. Body Guardz is also highly rated for its customer service. With the lifetime warranty and 30-day return policy, you'll be in good hands if you need any help with your protector down the line. There are plenty of options for non-iPhone users, too.
How to choose
Pick your purpose: It's important to pick a screen protector that's specific to your device and fits the exact dimensions of your screen. You may want to consider testing out a blue light screen protector on a smaller device (like your phone) to see if you experience any benefits before shelling out on a larger panel for your TV or computer monitor.
Protect your device: We selected screen protectors that not only filter blue light, but are also highly rated for their ability to protect your actual screen from cracks and scratches. This often means they cost a little more money upfront, but if you're going to put a blue light filter on your screen anyway, you might as well reap the benefit of protecting it.
Consider the long-term: To echo the above point about paying a little more upfront, it's worthwhile to consider brands that offer generous replacement policies. Especially for phones, which we inevitably drop from time to time, you'll likely end up saving cash in the long run by buying a more expensive product that has a lifetime replacement guarantee.
Know the limits: Most of the claims around the benefits of blue light screen protectors are anecdotal. While that doesn't mean it's not worth trying one out for yourself, it's helpful to remember that a blue light filter isn't the only way to improve your relationship with technology. Limiting screen time in general (especially around bedtime) and adjusting your display settings to ease eye strain are great places to start.
FAQ:
Do blue light screen protectors work?

Scientific research is lacking, but there's a lot of anecdotal evidence to suggest that a blue light screen protector can help relieve symptoms of eyestrain and improve your sleep with regular use. Even with the addition of a protector, it's still best to regulate your screen time to reduce your overall exposure to artificial light.
Is dark mode better for your eyes?

While dark mode on most phones will reduce the output of blue light, it will likely only reduce eye strain during the evening when the light around you is lower. A darker screen during the daytime may put additional strain on your eyes, just like bright screens at night. Your best bet at reducing strain is to match your screen's brightness to the environment around you.
The takeaway.
It's important to be mindful of how our devices impact our health, so we can better protect our health. In addition to blue light screen protectors, there are plenty of other ways you can control your exposure to blue light. Consider the light in your home, create a healthy bedtime routine that reduces your screen time, and take stock of your overall eye health. One thing's for sure: our devices aren't going anywhere. But with a little added awareness and some protective hacks, you may find some relief from the more frustrating side effects of screen time.