Cookbook Author
Cookbook Author
Vasudha Viswanath is the author of The Vegetarian Reset and the founder of We Ate Well, a community for foodies that puts nutrition back in focus.
November 22, 2022
Our editors have independently chosen the products listed on this page. If you purchase something mentioned in this article, we may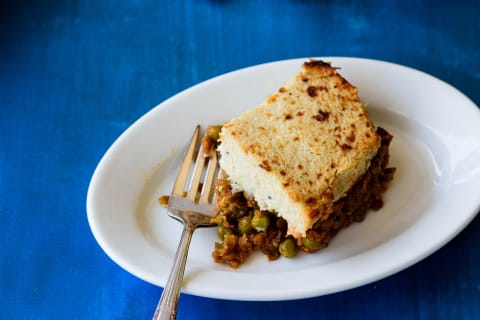 Image by Alexandra Shytsman 
Shepherd's pie is a classic British dish, usually made from ground meat with a mashed potato topping. A colleague brought a root vegetable version to a Thanksgiving potluck at my office and I was hooked! In my recipe, I use lentils for a higher-protein filling, and a creamy cauli mash that will be gone in a jiffy.
Advertisement
This ad is displayed using third party content and we do not control its accessibility features.
Ingredients:
Lentil Filling:
2 tablespoons olive oil
1 medium onion (7 oz/200g), diced
1 medium green bell pepper (7 oz/200g), diced
2 Tbsp tomato paste
1 Tbsp minced garlic
1 Tbsp cornstarch
2 tsp fine sea salt
2 tsp dried oregano
½ tsp red chile flakes
1 cup/120g dried green or brown lentils
4 cups/960ml low-sodium vegetable broth, divided
2 cups/320g frozen green peas, defrosted
Cauli Mash:
1 ½ lb/680g cauliflower or cauliflower rice
2 oz/56g butter
1 Tbsp. minced garlic
1½ tsp cracked black pepper
½ tsp salt
1 cup/112g grated Parmesan cheese
Method:
For the lentil filling, heat a medium saucepan over medium-high heat. When hot, add the olive oil and onions and cook, stirring often, until the onions are light brown and caramelized, about 5 minutes. Add the bell pepper and cook for 2 minutes. Reduce the heat to medium. Add the tomato paste, garlic, cornstarch, salt, oregano, and chile flakes, mix well, and cook for 1 minute.
Add the lentils and 3 cups of broth, mix well, and bring to a boil. Simmer, adding up to 1 cup of additional broth as needed, until the lentils are fully cooked, 20–25 minutes. Add the peas toward the end and cook until the mixture is very thick. Turn off the stove.
While the lentils are cooking, preheat the oven to 350°F/180°C and grease an 8-x-8-x-11/2 in/20-x-20-x-4-cm pan.
To make the cauliflower mash, bring a pot of salted water to a boil and cook the cauliflower until tender, 6–8 minutes. Drain. Heat the butter in a small saucepan over medium heat. When the butter melts, add the garlic, salt, and pepper and cook until fragrant, about 1 minute. Combine the cauliflower, butter-garlic mixture, and Parmesan in a food processor and puree until smooth. Taste and add more salt and pepper as needed.
To assemble the pie, spoon the lentils into the prepared pan and tap lightly on the counter to settle. Add the cauliflower mash on top and smooth into an even layer with a spatula or butter knife.
Bake for 25–30 minutes, or until the top is browned in spots. You can also broil the pie for 1 minute to brown it faster, if desired. Serve hot.
If making ahead:
Prepare 1 day ahead and refrigerate; it becomes easier to slice and serve. Freeze leftovers in an airtight container for up to 2 months. Defrost in the microwave, or leave out for 4–5 hours at room temperature.
Reprinted with permission from THE VEGETARIAN RESET by Vasudha Viswanath, The Collective Book Studio, January 2023. Photo credit Alexandra Shytsman (2023) by Vasudha Viswanath
Advertisement
This ad is displayed using third party content and we do not control its accessibility features.