Contributing writer
Contributing writer
Jamey Powell is a writer and editor living in Brooklyn, NY. Previously the senior market editor at Healthline.com, she has years of experience scouring endless product reviews and testing out the latest and greatest products in the sleep, fitness, and nutrition markets.
November 21, 2022
Our editors have independently chosen the products listed on this page. If you purchase something mentioned in this article, we may
A peek at the best air purifiers for mold:
Do air purifiers help with mold?
Mold reproduces through tiny particles called mold spores4, which are invisible to the naked eye. Spores exist in indoor and outdoor air, but mold has the highest risk of growing indoors when these spores land on wet surfaces.
While most air purifiers won't eliminate the mold or mildew already growing on your surfaces, these machines help prevent mold spores from landing in the first place. "Top-rated air purifiers have the ability to remove small particles like spores, improving indoor air quality and reducing the chances for indoor mold growth, explains Michael Rubino, mold and air quality expert and author of The Mold Medic, an Expert's Guide on Mold Removal.
Allergist Anjuli Mehrotra, M.D., agrees. "Mold spores are usually under 40 microns in size, so air purifiers with HEPA filters can usually filter out airborne mold spores," she adds. Microns are a unit of measurement equal to one-millionth of a meter—to give you an idea of how small 40 microns is, one grain of beach sand is typically between 100 and 10,000 microns.
"Mold is actually present around us everywhere, both indoors and outdoors," continues Mehrotra. "It does not always cause health issues, but people with allergies and asthma may be more sensitive to molds causing symptoms like coughing, wheezing, or nasal symptoms like sneezing or congestion. Exposure to excessive amounts of mold via airborne mold particles may trigger irritation of the eyes, nose, skin, throat, and lungs. People with suppression of their immune system or chronic lung or respiratory disorders may be at increased risk of infection from mold." 
"For those who are attempting to determine if an inspection is necessary, at-home options such as The Dust Test can begin to set the foundation for figuring out if there's a contamination situation present," Rubino adds.
When it comes to choosing the best air purifier for mold, Rubino says the key is to find a machine with technology that eliminates the particles from the air, so they don't just blow right back into the surrounding environment. "Air purifiers should at least meet HEPA status, meaning they remove 99.97% of particles as small as 0.3 micron. That being said, some species of mold can create microscopic toxins called mycotoxins, which are even smaller than mold spores. Finding air purifiers that can eliminate particles smaller than 0.3 micron can help cleanse the air further," he explains.
What to look for:
HEPA status
HEPA filters (or High-Efficiency Particulate Air filters) are the only type that's certified to meet the U.S. Department of Energy's standards5. HEPA filters are able to capture 99.97% of particles up to 0.3 micron. However, the Department of Energy notes that the diameter specification of 0.3 micron responds to the worst case—HEPA filters are still extremely efficient when it comes to trapping particles that are larger or smaller than 0.3 micron.
Cost of filter replacements
Most air purifiers also include at least one additional layer of filtration with the HEPA filter. Depending on the design, this could mean carbon (or activated charcoal) filters that filter smoke, gases, and odors; pre-filters for larger particles; or ionizers to grab the smallest particles in the air. While additional filters can be helpful, you'll want to consider the cost of replacing them. Filter prices range from $30 to $100 for replacements, but the cadence in which you'll need to swap them out varies by machine.
Coverage, or CADR rating
Most air purifier brands provide a Clean Air Delivery Rating (CADR) to indicate how effective a product is at turning over the air in a given square footage. It's important to know the limits of each product so you can manage your expectations accordingly. Most brands give a numerical value or estimated square footage for the purifier's reach.
How we picked:
Each purifier on our list meets the HEPA status criteria suggested by our experts. We made a point to avoid products with unrealistic claims.
Of course these machines need to function properly and hold up over time, but we also want them to look good in your home and not disrupt your day-to-day. We paid attention to the design, sound level, and brightness of display.
Because each product has different features, air purifiers fluctuate in price. We found a range of options, including a few budget-friendly picks.
We found a variety of purifiers, designed to tackle rooms of different sizes. Some have more bells and whistles, while others are more straightforward.
Our picks of the best air purifiers for mold:
Best for mold & allergies: Coway Airmega AP-1512HH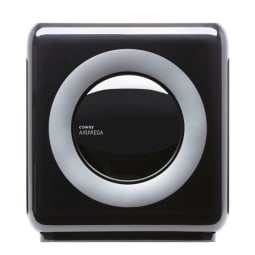 Pros:
4-stage filtration
Timer and Eco-mode settings
Cons:
Carbon filter refills are tricky to find
Brightness can be disruptive
Type: HEPA filterPre-filterDeodorization filterIonizer
Coverage area: Best for 361 square feet (CADR = 246 cfm)
When to replace filters: Deodorizer every 6 monthsHEPA every 12 months
Warranty: 3-year
We're big fans of the Coway Airmega and also selected it as one of the best air purifiers for allergies. This machine has four stages of filtration, for purification you can feel confident about. In addition to its reliable HEPA filter, there is a pre-filter for pet hair and larger dust particles, a carbon deodorizer filter for smoke and food smells, and an optional ionizer that aims to tackle the smallest particles in the air. In fact, research suggests that negative air ions could help people in relieving symptoms of allergies to dust, mold spores, and other allergens. The purifier's auto-mode automatically adjusts between settings to purify your space as needed. To conserve energy, the eco-mode turns off after the air quality is purified for 30 minutes or mote, turning back on as soon as air pollution is detected.
Best for destroying mold: Molekule Air Pro
Pros:
Destroys mold rather than trapping it
Research-backed
App to track air quality and control settings
Covers up to 1,000 square feet
Cons:
Filter replacements are expensive
Type: Pre-filterPECO-filter
Coverage area: Best for up to 1,000 square feet (CADR = ~477 cfm)
When to replace filters: Pre-filter every 3 monthsPECO-filter every 6 months
Warranty: 2-year
With a PECO-filter, this air purifier destroys mold spores rather than trapping them on the filter's surface. According to the brand's research, it also helps rid your air of viruses, bacteria, allergens, and pollutants. In independent laboratory tests, the filter was found to effectively remove 99.9% of airborne mold spores within two hours of operation. It has a touch display and a corresponding app, which can be used to control the machine's features and view air quality and air score.
The Molekule purifier is more expensive than others, but it certainly gets the job done—and it looks great in your home. Bonus: it's incredibly quiet, at just 33 decibels on the lowest setting and 64 on the highest. The brand offers a generous warranty, too, so you can feel confident in your purchase.
On the downside, the filters need to be replaced fairly regularly: every 3 months for the pre-filter and every 6 months for the PECO-filter.
Best with washable filter: Blueair Blue Pure 211+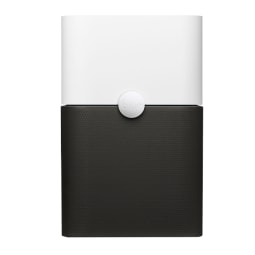 Pros:
Washable pre-filter
Energy efficient
Cons:
No timer or air quality display
Type: HEPA filterWashable pre-filterCarbon filter
Coverage area: Best for 540 square feet (CADR = 350 cfm)
When to replace filters: Every 6 months
Warranty: 2-year
A solid, Energy Star-rated purifier with a washable pre-filter, this aesthetically-pleasing design grabs larger dust particles and comes in several color options to match your space. Of course, the main HEPA filter snags smaller particles (like mold spores, dust mites, and pollen), while a layer of activated carbon sucks in odors and VOCs. 
Great for anyone who doesn't want to deal with an app or display, this is one of the most straightforward picks on our list: there's only one button to switch between three speeds, and an LED light that tells you when it's time to change your filter. 
Best for musty smells: GermGuardian AC4825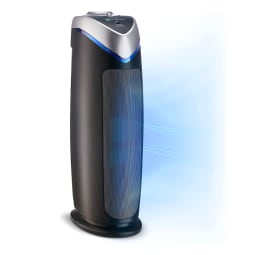 Pros:
Budget-friendly price
4-stage filtration
Cons:
May emit a plastic smell when new
Mixed reviews about lifespan
Type: HEPA filterPre-filterCharcoal filterUV-C light
Coverage area: Best for 153 square feet (CADR = 125 cfm)
When to replace filters: Every 6-8 months
Warranty: 3-year
This lower-priced pick uses four-stage filtration to keep your air fresh. It has a HEPA filter for smaller particles, pre-filter for larger particles, and charcoal filter for odors—which makes it a great choice if you're dealing with musty smells in your home. There's also a built-in UV-C light, which the brand says kills airborne viruses, germs, and mold spores. It's a harsher design than some others on our list—but for the lower price, you may not mind. Plus, the filter refills are less expensive, too! 
Some negative reviews mention a plastic-like smell when this purifier runs, especially when it's new, but it does seem to go away with time.
Best for mold & dust mites: Levoit Core 300S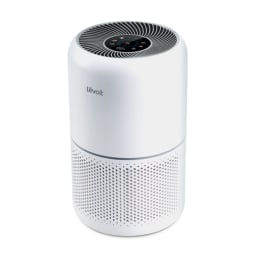 Pros:
Affordable replacement filters
Over 75,000 ratings on Amazon
Cons:
Mixed reviews about lifespan
May get louder over time
Type: HEPA filterPre-filterCarbon filter
Coverage area: Best for up to 547 square feet (CADR = 140 cfm)
When to replace filters: Every 6-8 months
Warranty: 2-year
For a compact option that doesn't skimp on features, the Levoit Core 300S is a great pick. It's so good at removing tiny particles, we also included it in our picks of the best air purifiers for dust. The standard filter uses a 3-stage filtration system that includes a pre-filter for larger gunk, a HEPA filter those small particles, and an activated charcoal filter for odors and gasses. Plus, the brand's refills are relatively inexpensive (around $30), and you'll only need to change them every 6-8 months. Complete with an app, this purifier offers sleep mode (for quieter use), a timer, and an on/off display.
A few reviews suggest that this purifier might not have the longest lifespan. Additionally, some say while it started quiet, the machine got louder over time.
Best for basements: NuWave OxyPure Smart Air Purifier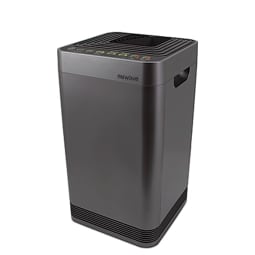 Pros:
On wheels
Effective for larger spaces
5-stage filtration
Type: HEPA filterCarbon filterWashable ozone removal filterWashable stainless steel pre-filter
Coverage area: Best for 515-1,200 square feet (CADR = ~350 cfm)
When to replace filters: Every 12 months
Warranty: 5-year
If you want to cover a lot of ground (specifically in larger areas, like your basement), this purifier packs a punch. The baseline coverage is 515 square feet, but a handful of reviewers say it's effective in rooms more than twice that size (up to 1,200 square feet). Plus, it comes on wheels so you can easily transport it around your space.
The brand has an optional companion app to control this purifier and view your room's status no matter where you are. The machine uses 5-stage filtration, has six fan speeds, several timer options, an auto mode, and a display that tells you the air quality status in the room.
Best design: Mila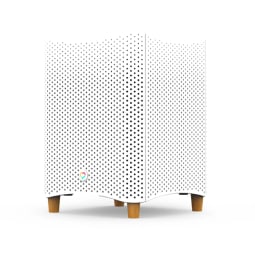 Pros:
Connects with smart devices and has an interactive app to control settings from afar
Monitors humidity levels to prevent mold growth
Aesthetically pleasing
Cons:
Filters are expensive
Mixed reviews about app features and notifications
Type: Various filter types, but all are HEPA
Coverage area: Best for 363 square feet (CADR = 245 to 447 depending on filter)
When to replace filters: Every 6 months (subscription available)
Can an air purifier be…cute? This brand certainly thinks so. With a companion app that gives you live status updates on your air quality, the Mila purifier is a smart device that works with Amazon Alexa and Google voice assistants. The unit continuously monitors the humidity level in your room to alert you about possible mold growth, has a "Quiet Mode" that senses when you're in the room, and even warns you about poor air quality outdoors. 
The company sells several compatible HEPA filters, including a filter called "The Overreactor," which is designed to grab even the smallest of particles.   
FAQ:
How do you know if you have mold in your house?

Rubino says all homes have some low levels of spores and microscopic particles, which can be actively removed through preventive actions such as deep cleaning, changing air filters, and investing in air purification. However, he adds that there's a marked difference in the volume of particles present when mold is actively growing inside your home. 

"The best way to determine if you have mold growing in your home is to hire a qualified professional to come and inspect the building," Rubino explains. "This individual should spend hours carefully analyzing the home's interior and exterior and use various testing methodologies." 

Other indicators of indoor mold growth include:

– Visible growth (make sure to check hotspots such as the basement, attic, appliances, crawl spaces, underneath sinks, and carpeting)

– Water damage 

– An earthy, musty, stale, cigar-like odor

– Chronic health conditions with seemingly no root cause
Can you get rid of mold spores in a house permanently?

While mold spores can dry out, they will never entirely disappear unless professionally removed from your space. According to Rubino, your best bet at fighting mold spores is by integrating a purification system into your home's HVAC system. "As for what type of unit to opt for, whole-house air purifiers are the best because they're installed at the home's point of entry and help circulate filtered air throughout the entire building," he says.

"They also add a layer of protection for the HVAC system: Filtering out small particles like mold spores reduces the chance that growth begins in the unit. As the lungs of the home, mold growth in the system can lead to contamination being spread throughout the entire indoor space."
Is an air purifier or dehumidifier better for mold?

According to Rubino, it depends on the situation. "Some species of mold can grow in high humidity, which is why indoor humidity levels should remain between 35 and 50%," he explains. "If this can't be accomplished, a dehumidifier should be brought in to reduce those levels so that mold doesn't have the opportunity to grow. If humidity levels are in the safe zone, air purifiers can work to remove particles like mold spores from the air. This increases indoor air quality and decreases the chances of a spore opportunistically finding a space to begin growing. The fewer spores there are in a home, the better."
The takeaway.
Clearing the air in your home from pollutants like dust, mold spores, and pollen is a worthwhile effort. Air purifiers make this task easier than ever. Keep in mind, if you're concerned a small purifier won't fully detox your air, you may want to consider bringing in a professional. For mold on surfaces, check out our picks for the best natural mold killers.