November 4, 2022
Our editors have independently chosen the products listed on this page. If you purchase something mentioned in this article, we may
Whether you're chasing that runner's high or just trying to hit your daily step count, the benefits of running go far beyond keeping you physically fit. Studies show that running regularly (even for as little as 10 minutes per day1) can reduce your mortality risk2 and add years to your vascular age3. Plus, running (and walking) have incredible impacts on your mental health4 by helping to improve mood and increase happiness. Unfortunately, sometimes logging those miles is easier said than done.
Freezing, cloudy, stormy, or scorching weather can make running outdoors miserable. Luckily, indoor running equipment has come a long way in the last decade, ensuring even those who swear by outdoor workouts (like me!) can finally enjoy conquering a sweat session inside—and it's all thanks to the best treadmills brands.
We spoke with running experts, coaches, and physical therapists to learn more about how running and walking can improve our health and well-being, and how to keep achieving these gains even when we can't get outside. Below, find their expert input, plus our list of the best treadmill brands for every lifestyle and living space—so you can stay physically and mentally fit all year round, no matter where you live.
A peek at the best treadmill brands of 2022:
The benefits of a treadmill.
Yes, an at-home treadmill can be a big investment; but if having one in your living space helps you develop a more regular exercise routine, it opens a ton of doors for your health and well-being. "Having a treadmill at home provides you with a safe environment and can be helpful with time management. You don't have to worry about running in the dark or in bad weather," Kathleen Leninger, PT, DPT, physical therapist and RRCA coach at Custom Performance agrees. "It also allows you to take breaks when needed, you don't have to map out a route, and it's easy to cut a run short if you need to."
For runners specifically, adding treadmill days to your training plan can be impactful if you don't live in an area with easily accessible hills or running tracks. "Treadmills can help you master your pacing, correct your form, and do effective hill and speed training from the comfort of [a gym or] your home," RRCA, USA Track & Field, and USA Triathlon certified coach, Raj Hathiramani explains.
If you're feeling stagnant, and aren't getting the recommended 150 to 300 minutes per week of movement in, a walking pad, a foldable treadmill, or a treadmill desk are all great ways to keep you active throughout the day—potentially even while you're working, reading, or watching TV.
How does running on a treadmill compare to running outside?
Do you ever feel like running outside is harder than on a treadmill? Well, you're not alone. There are many reasons outdoor running might feel more difficult, but most running coaches and experts agree that a combination of the two methods is best. "If you are training for a race, exclusively using a treadmill is not a good idea," Leninger explains.
Treadmills are great because they give you control over your pace, but Leninger says it's important to practice self-pacing, too. "On a treadmill, you can set a pace and you don't have to worry about it, but it is important to learn what different paces feel like outside and how to maintain them without the treadmill doing the work for you," she adds.
Elite marathoner and RRCA-certified running coach Elizabeth Corkum agrees, saying that "How a runner utilizes their hamstrings and glutes when moving on a solid surface vs. a moving belt can change, and treadmill runners often heel strike—which most likely wouldn't happen outside."
"Be intentional about when and why you do treadmill workouts," Hathiramani advises. "I recommend limiting the treadmill to specific incline and speed training, unless it is not safe to run outside."
How to choose the best treadmill brand:
Your desired level of activity is an important factor when choosing which treadmill is right for your home—along with how big your space actually is (we've found some great compact treadmills), and how much money you're willing to spend.
When it comes to size, there's more to consider than simply whether the machine will fit. "A lot of treadmills require certain dimensions for the actual machine, but also for clearance, that you will want to consider," explains Leninger. "Make sure you have an outlet that will work on the area that you want to place the treadmill. You will also want to make sure you have enough head room, and you want to pick a place that you will actually enjoy being in."
Like we said, these machines have come a long way in recent years, and each comes with its own features and capabilities (speed, incline, heart rate monitors, screens for streaming classes, to name a few). Once you determine the size you need, Hathiramani says, "From there, you can consider a treadmill's features, including its motor and maximum weight, for sufficient speed and stability." He adds that, "Foldable treadmills have increased in popularity, especially for those without a lot of extra space in their homes."
Some brands offer a warranty, and they all have different return policies—both of which should be noted and taken into consideration as you're browsing.
How we picked:
Some treadmills are built for walking only, and won't have as many speeds or capabilities, but we considered all levels of activity and analyzed the features offered on each of these machines when selecting our picks.
If you're just looking to get some movement in, you likely don't need to spend as much as if you're working with an advanced training plan. We took all budgets and goals into consideration.
Everyone has different preferences, so we read plenty of feedback to gain a wider perspective on each of these machines. This helped us determine which treadmills to include.
We were mindful of our expert's input when selecting our final recommendations, and included their advice for you as well.
Our picks of the best treadmill brands of 2022:
Best folding: Echelon Stride Auto-Fold Connected Treadmill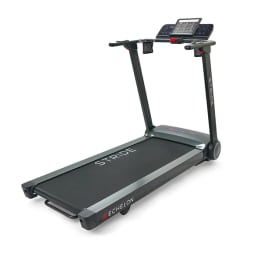 Echelon Stride Auto-Fold Connected Treadmill
Pros:
Auto-fold feature
Great for small spaces
Rubber running deck
Max Speed: 12 mph
Incline Levels: 12% range
Weight Limit: 300 pounds
Dimensions: 69.3″ L × 31″ W × 49.2″ H open, 69.3″ L × 31″ W × 10.25″ H folded
Trial Period: 30 days
Warranty: 1-year
Maximizing your space is important, especially if you hoard home gym equipment. When not in use, this treadmill can be folded to just 10 inches tall for easy storage. A lot of folding treadmills are only meant for walking, but Echelon's Stride Auto-Fold durable model is designed to support speeds up to 12 miles per hour with up to a 12% incline.
While it does not have a built-in screen, there is a doc to hold your device, so you can stream any class you'd like from the brand's corresponding app (or catch up on your latest television binge).
If you do choose to sign up for an Echelon United app membership ($39.99/month), you'll have access to over 40 daily live classes, hundreds of on-demand workouts, and you can watch your username climb the leaderboard as you go. Without a membership, you can still use the treadmill, but you won't be able to access any of these classes.
This treadmill arrives in a box, and is easy to set up on your own.
Pros:
Auto-incline capabilities
Rotating screen
Great class selection
Cons:
Bulky design with large footprint
Max Speed: 12 mph
Incline Levels: -5% to 40%
Weight Limit: 400 pounds
Dimensions: 81" L x 38" W x 80" H
Trial Period: 30 days
Warranty: 2-year parts warranty, 1-year labor warranty, 10-year frame
NordicTrack offers a few great treadmills for every lifestyle and living space, and the Elite model comes highly recommended from certified personal trainer and mindbodygreen contributing writer, Marissa Miller. Particularly great for runners, this treadmill has all the bells and whistles, with industry-leading incline capabilities ranging from -5 percent to 40%. If you're using the 32-inch rotating screen to stream an iFit class, you can even have your trainer automatically adjust the include for you throughout your run, along with the speed.
During your run, the screen will display metrics such as speed, incline, distance, time, heart rate, calories burned, and pace. It's also worth noting that, with an iFit membership, you can stream additional workout classes from your treadmill, including strength training, yoga, and more.
The treadmill will either be delivered to your house in a box for self-setup, or you can opt for white glove delivery (for an additional cost).
Runners love this treadmill, and it gains a ton of five-star ratings. Take it from this reviewer: ""Holy smokes! This thing is a beast and probably the best purchase I have made for myself in years. I use it daily. I highly recommend the iFit membership to explore the world while you walk, run, or hike. The 32-inch screen makes it so immersive and the experience is legendary. Never had a treadmill this nice and I have used many of them at the gym/home."
Pros:
Foldable
Great for small spaces
Cushioned EVA form walking belt
Cons:
No incline options
Speeds not high enough for running
Max Speed: 3.7 mph
Incline Levels: None
Weight Limit: 242 pounds
Dimensions: 56.5" L x 21.5" W
Trial Period: 30 days
One of our picks for the best compact treadmills, this brand excels in sleek, foldable, walking treadmills. The WalkingPad double-fold treadmill is an ideal pick for those who are very short on space, but want to add some steps into their daily routine. This pad is made only for walking, as the speed cannot exceed 3.7 miles per hour. It automatically adjusts to your pace with all available metrics (time, speed, distance, and steps) viewable on the small remote control.
The belt itself is designed to feel like a real track with a soft EVA shock absorption layer that's easier on your joints. It fits seamlessly under a standing desk, or can be set up in your living room, so you can stay active as you watch your favorite shows.
Orders ship for free, and you'll receive everything you need in one box: the walking pad, power cord, remote control, and remote control lanyard, along with an Allen wrench and silicone lubricant for setup.
Pros:
Easy speed & incline adjustment
Great for small spaces
Lifetime frame warranty
Max Speed: 10 mph
Incline Levels: 10% range
Weight Limit: 300 pounds
Dimensions: 71" L x 34" W x 57" H
Trial Period: 30 days
Warranty: 1-year parts warranty, 1-year labor warranty, Lifetime frame warranty
Designed for shorter distances, this treadmill is great for incline training for those who don't want to spend a ton of money. That said, this is a lighter-weight model, and is not meant to support long distance running. If you're using it for incline training or speed work, you can quickly shift between speed and incline levels by using the one-touch keys and controls, or simply preset your go-to settings, for an even more seamless training experience. Once the workout is wrapped, simply use the auto-fold feature to tuck it away.
Those with joint issues will love the padding on this treadmill's belt, which helps with shock absorption as you walk or run, and reduces impact on your joints and spine. The tech features are a bit limited, but your calories, distance, heart rate, incline, speed, and time can all be viewed on the machine's console. There is no screen, but there is a dock for your own tablet.
The machine will arrive in a box (est. 220 pounds), and (as with most foldable treadmills) setup is fairly simple.
Pros:
Foldable for small spaces
No screens for viewing run/walk metrics
Cons:
No incline options
Speeds not high enough for running
Max Speed: 8 mph
Incline Levels: None
Weight Limit: 250 pounds
Dimensions: 70.25" L x 29" W x 44.5" H
Trial Period: 30 days
Quality home gym equipment does not come for cheap, but this well-made treadmill offers a ton of standout features, despite a significantly less expensive price point than other models. Made specifically for smaller spaces, it's also a great choice for those looking to fit big equipment into city apartments. Even better, you can fold it up and store it away when it's not in use—although, you might be more inclined to hop on if it's out in plain sight.
This one has a lower weight capacity than others at 250 pounds, and while it can support lighter jogging, it's not meant for intense running routines, only going up to 8 miles per hour. It also does not have a screen for streaming, but the base is perfectly sized for a tablet or iPad, which you can connect to the machine for classes. After all, your purchase includes a 30-day iFit membership trial. If you do choose to connect your tablet, you'll be able to view metrics including calories burned, speed, and distance.
The brand ships this treadmill in a box, and it's easy to set up; simply take it out of the box and roll it into place.
Pros:
Foldable
Great for distance running
Heavy weight capacity
Cons:
Large
Subscription required
Max Speed: 12 mph
Incline Levels: -5% decline to 20% incline
Weight Limit: 400 pounds
Dimensions: 85″ L x 39.6″ W x 70″ H opened, 44" L x 39.6" W x 70" H folded
Trial Period: 30 days
Warranty: 2-year labor warranty, 5-year parts warranty, 15-year frame warranty
With a massive incline range and speeds up to 12 miles per hour, this treadmill is great for runners looking to put in serious distance training. When you're running long distances, you need something that's going to support your joints, and the brand's comfort cushioning is meant to do just that.The durable design has a large, 22-inch touchscreen, vertical handlebars for safety, and heart rate monitoring. All that considered, it's definitely on the bulkier side, even when folded.
You'll need a subscription to the JRNY app in order to use this treadmill, but with your subscription you'll gain access to hundreds of classes (including strength training, yoga, running, cycling, and more), and a whole community of runners and fitness enthusiasts to connect with. We included Bowflex's bike on our list of the best at-home exercise bikes, and once you experience the class selections, you'll likely want to spend the extra bucks on the brand's app. You'll also receive a free one-year membership with your purchase ($149 value), so you can see for yourself.
Pros:
Desk attached
Durable
Connects with health apps
Cons:
Only for walking
Mixed reviews on brand's app
Max Speed: 4 mph
Incline Levels: None
Weight Limit: 350 pounds
Dimensions: 68.5″ D x 38″https://www.mindbodygreen.com/48″/60″ W
Trial Period: 30 days
Warranty: 2-year parts warranty, 1-year labor warranty, 10-year frame
Speaking of treadmills that fit seamlessly under your desk, Lifespan took the concept one step further, creating a treadmill-desk combo—so you can achieve all the benefits of movement, without missing any deadlines. The height can be adjusted from 27.5 to 50.5 inches tall, and the desktop comes in three width options (38, 48, or 60 inches). Both the frame and desktop come in quite a few colors and materials to ensure this pick seamlessly fits into your home decor.
Work-from-home folks will love that the quiet motor won't interfere with the work day and that the belt automatically pauses when you aren't actively walking (like for an emergency phone call). Just note: The max speed defaults at two miles per hour but can go up to 4 miles per hour if you prefer a faster stride. There's also a corresponding app to view your metrics and connect with other platforms, such as Apple Health, but reviews mention a few glitches with saving your workouts.
The brand offers a few shipping options: free delivery to your doorstep, delivery to your room of choice (+$199), or white glove delivery and setup (+$350).
Pros:
Great for sprinting & walking
Manual design lets you change pace without adjusting
Adds difficulty to runs for a more effective workout
Cons:
Not for long distance running
Bulkier design
Max Speed: Manual
Incline Levels: Manual
Weight Limit: 350 pounds
Dimensions: 73" L x 33" W x 67" H
Trial Period: 30 days
Warranty: 1-year labor warranty, 3 years all components, 2 years battery operated display, 5 years frame & belt
Curved treadmills are best for sprinting or walking. Leninger confirms this, adding that "Running long distances on them can actually cause injuries." If you are looking for a treadmill specifically for sprinting or walking, this luxury model from Woodway is an excellent choice.
The curved structure is meant to encourage proper running form, specifically for sprinting and running shorter distances—and while this design is intentional, it's not the curve that makes this treadmill feel different from most of the others on our list. What sets this machine apart most is the fact that it's completely manual, so it requires no electrical outlet to operate. You'll definitely feel the difference in terms of difficulty, as the machine is powered solely by your stride. Fun Fact: The brand says this increases your calories burned by up to 30%.
FAQ:
What should I know before buying a treadmill?

Once you've set price and size parameters for yourself, you should consider other factors, such as tech features, speed and incline capabilities, and (of course) the activities you plan on using your treadmill for. "Read reviews, try out machines, and be honest with what sort of an investment you are willing to make," Corkum advises.
What is the best walking treadmill?

Again, this depends on the amount of space you have and how much you're willing to spend. That said, we love the WalkingPad for walking, or (if you have a bit more to spend) the Lifespan Treadmill Desk, for all those walking-and-working multitaskers out there. If you're using your treadmill specifically for walking, you can likely do without some of the tech and speed capabilities, and you probably don't need a treadmill that utilizes an app membership.
How long do treadmills last?

According to Corkum, "This will depend on the quality of the machine, and how well it is cared for." Hathiramani and Leninger agree that, if they're taken care of, high-quality treadmills can last between 7 to 10 years.
Are curved treadmills better?

This depends on what you're using your treadmill for. As Leninger explained, curved treadmills are meant for shorter distances. "[Assault or] curve treadmills are NOT meant for long distance use so they are not a great idea to purchase for your home," she says.
The takeaway.
Investing in an at-home treadmill will help you achieve all the benefits of walking and running, without having to train outside in rainy weather or less-than-ideal conditions. These machines can also be a great supplement for any existing outdoor training regiment, as many models allow you to adjust to various speed and incline levels. With an app-connected treadmill, you'll even have access to high-quality instructors and fitness classes, plus entire communities of people who are also prioritizing their physical and mental health through exercise. Just make sure you're supplementing all that cardio with strength training, too.