Although the phrase "home gym" can conjure images of a swanky, expensive fitness space, you can still find the best equipment for a home gym even on a tight budget.
In these past few years, lots of us have found that creating a versatile, functional home workout area isn't an out-of-reach dream.
So if you're looking to build a workout space, here are some equipment options to make it happen.
1. Flooring
Although carpet is fine for many workouts, it's not always the easiest to clean if you're going to have major sweat sessions regularly. It's also less than ideal for yoga and barre.
Consider upgrading to flooring that can cover the carpet, be installed in a basement or garage, or comes in pieces so you can move it around. Home gym floors are available in several materials, including cork, rubber, foam, bamboo, and artificial turf.
Flooring with a "puzzle piece" format lets you install it easily, anywhere.
Top pick: ProsourceFit Puzzle Mat
Price: 6 tiles/$26, 12 tiles/$49, 36 tiles/$105
2. Chin-up or Pull-up Bar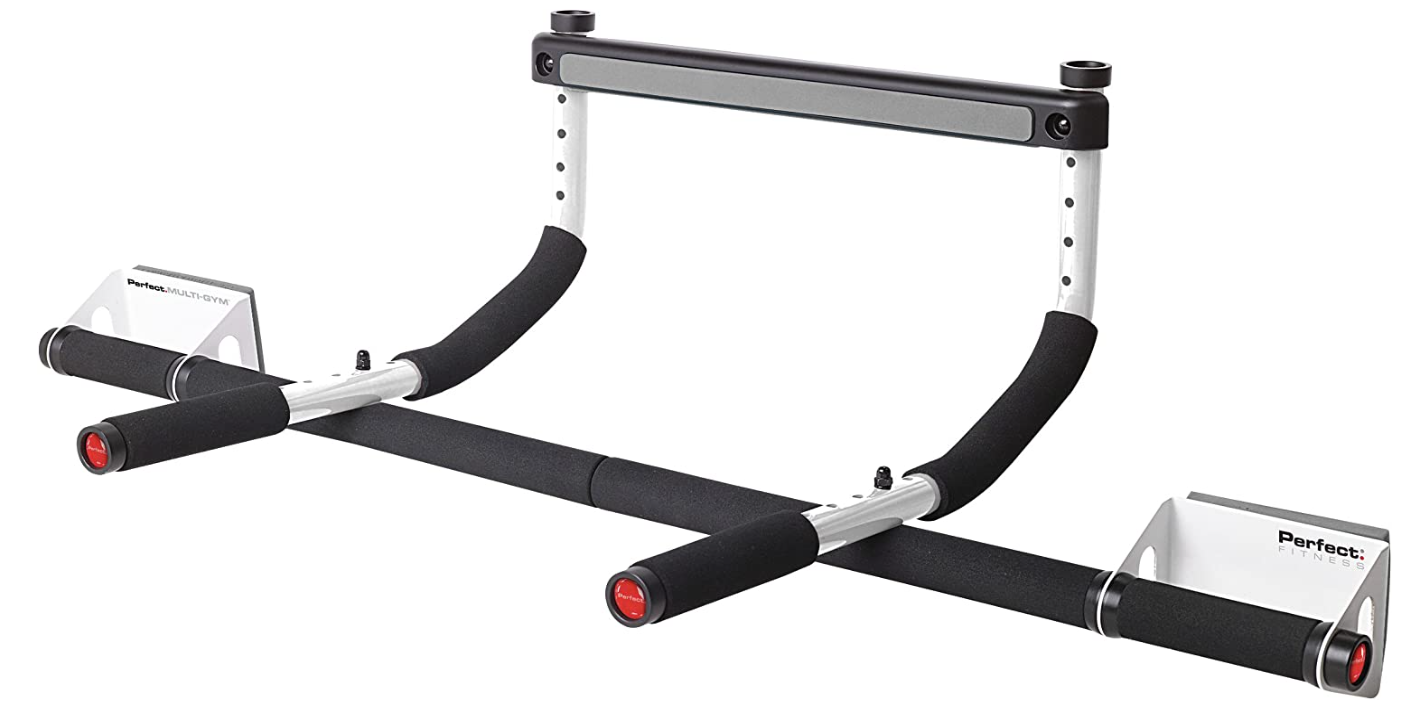 Pull-ups and chin-ups are two awesome moves for boosting functional strength — especially in your upper body. They're also tough to do at home if you don't have a bar. Look for one that's sturdy and attaches to a doorframe securely (it needs to safely accommodate your body weight, after all).
Bonus points if it offers multiple grip options to help you expand your exercise arsenal.
Top pick: Perfect Fitness Multi-Gym Doorway Pull Up Bar
Price: $35
3. Weight Bench
If you're getting serious about strength training, you'll want to invest in a weight bench. An adjustable bench is highly versatile, allowing you to do tons of moves, from the step-up and hip thrust to the dumbbell bench press and triceps extension.
You can also find a number of options in various price ranges, depending on their features. For more versatility, look for benches that incline and decline.
Top pick: FLYBIRD Adjustable Weight Bench
Price: $140
4. Weights
Dumbbells help you build strength and lean mass by challenging your muscles with heavier loads. If you're going to invest in them, it's critical that you have a variety of weights to work different muscle groups and to allow you to continue to challenge yourself as you become stronger.
If you love thrifting, check out secondhand gear stores to get some killer deals on gently used — or in some cases, never used — classic dumbbells.
But if you're short on space (or simply don't want to clutter up your workout area with a bunch of free weights), consider investing in a pair of adjustable dumbbells. One pair can replace an entire rack of traditional dumbbells, and although the upfront cost is higher, you'll likely end up saving money in the long run.
Top pick: Bowflex SelectTech 552 – Two Adjustable Dumbbells
Price: $380
5. Resistance Bands and Loops
Incredibly affordable and versatile, resistance bands and loops are like a gym-to-go, giving you a great workout anywhere.
Like free weights, they build muscle by forcing you to overcome a resistance. But unlike barbells and dumbbells, that resistance remains constant throughout each rep, pulling against you during the lifting and the lowering phases. In so doing, it helps you maximize the time your muscles spend under tension, which is a key growth stimulus.
Top pick: Tribe 11PC Premium Resistance Bands Set
Price: $24
6. Suspension Trainer
A simple system like a TRX attaches to a secure anchor point and has two adjustable straps that come down to a set of handles. Although it sounds basic, this system is incredibly versatile — and portable.
Use it to increase the challenge of classic exercises such as the push-up and lunge by adding an element of instability that can help you hit the refresh button on a stale routine.
Top pick: TRX GO Suspension Training: Bodyweight Fitness Resistance Training
Price: $140
More Home Gym Equipment
As you keep expanding your home gym, there are plenty of other choices to add to help reach your goals.
One strategy that tends to work well is to go with the basics first, and add on from there so that you're only bringing in what you'll really use. That way, you'll have a customized home gym that works as hard as you do.
Budget-friendly gym equipment
Investment-level home gym equipment