Contributor
Contributor
Christie is a writer, editor, and content strategist whose work has appeared in Shape, Real Simple, Southern Living, InStyle, People, Travel + Leisure, and more.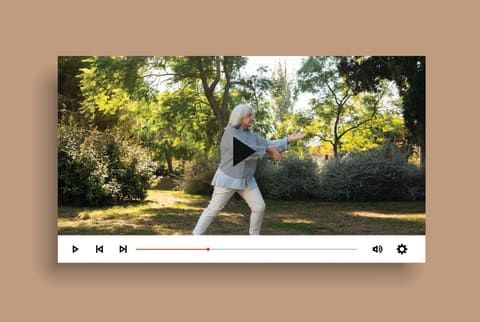 February 20, 2023
Our editors have independently chosen the products listed on this page. If you purchase something mentioned in this article, we may
Tai Chi is a Chinese martial art that has been around for hundreds of years. Now, many people turn to this low-impact exercise for its mental and physical health benefits. According to Raymond Li, NASM-certifed personal trainer and founder of the Manhattan Tai Chi school, Tai Chi can improve balance and coordination1, cardiovascular health, and mental clarity2. The best online Tai Chi classes bring these benefits right to your home.
Below, learn more about Tai Chi and find our picks for the best online Tai Chi classes for beginners, seniors, and more advanced students.
The best online Tai Chi classes:
What is Tai Chi?
Tai Chi is an ancient Chinese martial art that has been practiced for hundreds of years. It's a form of low-impact exercise that can be done by just about anyone who is not movement-impaired, no matter their age or fitness level. 
"[Tai Chi] involves a series of slow, graceful movements that are performed in a meditative state of mind," says Li, adding that the practice is sometimes called "meditation in motion."
The movements are typically performed in "a flowing, circular manner," Li explains. The practice is designed to promote relaxation, balance, and coordination and have been proven to offer both physical and mental health benefits.
What are the benefits of Tai Chi?
When it comes to the physical benefits of Tai Chi, the practice is known to help improve balance and coordination, especially in older adults, says Li. The flowing, gentle movements can also increase flexibility and joint mobility. 
Studies suggest Tai Chi can improve cardiovascular health—and Li agrees. "Tai Chi is a low-impact form of exercise that can help to improve circulation, lower blood pressure, and strengthen the heart," he adds. Even though it's a low-impact exercise, Li says the practice increases muscle strength, especially in the legs and core.
As for mental health benefits, Tai Chi may lower levels of stress and anxiety as it promotes relaxation and mindfulness, Li explains. By reducing distractions and improving focus, Tai Chi can boost cognitive function. Plus, it may help increase energy, promote a sense of well-being, and even lead to a better night's sleep3, he adds.
Just about anyone can get in on these benefits, since Tai Chi is a gentle form of exercise for people of most ages and abilities. However, if you have severe osteoporosis, recent joint replacements, difficulty with balance and coordination, or are pregnant, Li recommends consulting with your doctor before giving it a try.
How to choose the best online Tai Chi class.
Consider the below factors when choosing the right online Tai Chi class for you:
The instructor: Before joining an online Tai Chi class, do some research about the instructor qualifications. "Look for an instructor who has recieved proper training and certification in Tai Chi," Li suggests. "Consider checking their background, credentials, and experience."
The format: Li also recommends taking note of the class formats each platform offers. For instance, are the classes live or pre-recorded? How interactive is the platform? "You may prefer a live class for the ability to ask questions and receive immediate feedback," Li notes. Or, you may enjoy having the ability to press play as you please.
The content: "Make sure the class covers the fundamentals of Tai Chi, including proper form, breathing techniques, and mindfulness," Li advises, suggesting you consider what level of experience is offered and whether it aligns with your practice.
How we picked:
The price of any exercise class can be expensive, so we took cost into consideration when picking the best online Tai Chi classes.
Reviews from real people who have tried various online Tai Chi classes offered helpful insights for determining which Tai Chi courses were worth it and which weren't.
We looked into the credentials of all of the instructors teaching the online Tai Chi classes that made this list. They're each qualified to teach Tai Chi and experienced in the practice.
Some studios offer a variety of class types, while others include specialized courses. These factors played a role in our selection of the best online options for different needs.
Our picks for the best Tai Chi classes of 2023:
Advertisement
This ad is displayed using third party content and we do not control its accessibility features.
Advertisement
This ad is displayed using third party content and we do not control its accessibility features.
Advertisement
This ad is displayed using third party content and we do not control its accessibility features.
FAQ:
How many times a week should you do Tai Chi?

How often you should practice Tai Chi depends on your individual goals. Generally speaking, he says practicing Tai Chi two to three times each week is a good idea. If you're working toward a specific goal, you might do it more. If you are fatigued or feel pain, you might scale back.
How long does it take for Tai Chi to work?

It may take as little as a few weeks to feel the effects of Tai Chi. However, Li explains that it could take longer to see results, particularly if you're using Tai Chi for specific health conditions such chronic pain and headaches. This really depends on each individual and what they're hoping to achieve from the practice.
Who should use Tai Chi classes?

Just about anyone can practice Tai Chi. "Tai Chi is generally considered to be a safe and low-risk form of exercise, and most people can participate without any problems," Li agrees. Tai Chi can be especially helpful for older adults and those looking to reduce stress and anxiety while building flexibility, coordination, and strength.
Can I teach myself Tai Chi?

While you can teach yourself Tai Chi using instructional resources and online classes, it's beneficial to have an instructor who can provide guidance and feedback or form and technique. If you do practice on your own, "just be sure to practice regularly, seek out quality instructional materials, and make an effort to receive feedback from others," Li advises.
The takeaway.
Tai Chi is a low-impact form of movement with many physical and mental benefits. It involves gentle movements, often performed in a circular flow. While hands-on instruction is beneficial, you can take online Tai Chi classes to learn the practice on your own. To further explore the world of online fitness, check out our guides for the best online workout programs and the best fitness apps for every experience level.