Written by
Kelsea Samson is a writer, content manager, certified yoga instructor and founder of The Mindfulness Program for Kids and Yoga for the Blind in Tampa, Florida.
Expert review by
Sarah Kostyukovsky, PT, DPT, OCS
Sarah Kostyukovsky, PT, DPT, OCS, is an orthopedic physical therapist who specializes in treating pelvic floor dysfunction and the perinatal population. She earned her B.S. from the University of Virginia and her Doctorate of Physical Therapy from Columbia University College of Physicians and Surgeons. She is co-founder of Flow Physiotherapy and the owner of Mom in Balance New York, which offers pregnancy and postpartum outdoor fitness classes in Manhattan and Brooklyn.
November 23, 2022
Our editors have independently chosen the products listed on this page. If you purchase something mentioned in this article, we may
Common among runners, cyclists, lifters, and athletes alike, knee pain is extremely disruptive in any training regimen or day-to-day routine. Whether you're experiencing pain in your knees for the first time or you've dealt with chronic pain for years, it's as aggravating as it can be debilitating. While they won't get to the root of the problem, the best knee compression sleeves will help keep you moving and ease your pain. Wear them to get back on the court or up that flight of stairs, but it's best that you also work with an expert to find out what's causing your knee pain.
We've researched the options and rounded up the best knee compression sleeves of 2022, to keep you as comfortable as you can be. Below, experts explain how these compression sleeves work and answer the most frequently asked questions about knee pain relief.
A peek at the best knee compression sleeves:
How do compression sleeves work?
A tight piece of fabric that wraps around the knee, compression sleeves work by applying even pressure and providing support to the muscle and joints. To understand if this technique really works, we spoke with Ann Swanson P.T., DPT, doctor of physical therapy and board-certified orthopedic specialist.
"Ultimately, the goal of a compression sleeve is to improve functionality1 and help with pain2. While a knee sleeve can make you feel better day to day and help keep you active so you can build strength more comfortably, it will not change your mechanics or [treat] the root cause of the issue," says Swanson P.T., DPT.
She notes that compression sleeves are known to control swelling and improve blood flow. In fact, this study found that compression garments boosted recovery after strength training by increasing blood flow to the knee3. So if your doctor clears you for workouts but you're still feeling some pain (or you know you're prone to injury), knee compression sleeves could make a big difference.
How to choose.
Aside from narrowing down for a specific activity such as weight lifting or running, the most important aspect when finding the best knee compression sleeve is how it fits to your body. Swanson says the ultimate goal is a sense of support.
"The compression sleeve should not be so tight that it is uncomfortable or feels like it is limiting your movement. If you notice swelling above or below your sleeve, you might be using a sleeve that is too tight. Also, if you have sensitive skin, be mindful of the fabric you choose," she advises.
Swanson's biggest sleeve-shopping tip: "Know that the knee sleeve will not solve your problem, but it can be helpful in managing pain and keeping you moving. If you are experiencing pain, it is important to consult a physical therapist or your doctor to address potential strength deficits or improve movement patterns to create long-term pain relief."
Finding the best knee compression sleeve that's right for you might take some trial and error, but every option on this list has an easy return policy. Try on the sleeve for fit, and then test it for pain relief and support. If you feel like your movement is limited or the sleeve is not providing any relief, speak with your doctor to find something that will work better for you.
How we picked:
To last through intense workouts, we opted for knee sleeves made with durable, comfortable materials that will give you the most life out of your purchase.
Each knee sleeve on this list includes a noteworthy quality that makes it stand out from the pack, such as antislip technology or medical-grade compression.
We scoured the internet for the top-rated knee sleeves on the market and used positive and negative reviews to determine which ones are a cut above the rest.
Knee compression sleeves range from under $10 to almost $100, but we included the best picks for every budget.
Our picks of the best knee compression sleeves of 2022:
Best for arthritis: Powerlix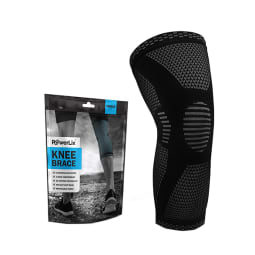 Pros:
Quality materials
Money-back guarantee
Multiple colorways
Colors available: BeigeBlackBlueGrayLight bluePinkOrange
Sizes available: small – XXL
Material: Blend of nylon and spandex plus anti-slip silicone gel strips
Compression level: Average
If you're someone whose arthritis isn't stopping them from hitting the pavement, then this knee compression sleeve by Powerlix is for you. Its four-way compression design applies stable compression across the knee, providing sufficient support that won't limit your range of motion, but will ease your pain. The fabric is lightweight, moisture-wicking, and breathable so you won't have to worry about itchy or odorous knees. It's also got a range of stylish colors to choose from. With silicone anti-slip gel strips, this sleeve stays in place even during the sweatiest workouts.
Best for running: Bauerfiend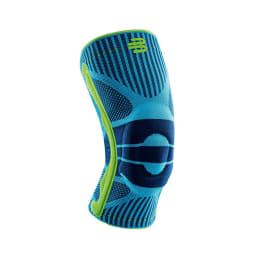 Pros:
Machine washable
Available from sizes extra small to XXL
100% satisfaction guarantee
Colors available: BlackPinkRivera blue
Sizes available: small – XXL
Material: Neoprene
Compression level: Medical grade
Specifically designed to evenly disperse pressure, this knee sleeve provides targeted relief with anatomically contoured pads—and the relief it provides to runners is worth the higher price point. The pressure points and lateral wings provide targeted stimuli which stabilize you as you move, and protect your knees against overuse and strain. With an air-knit fabric, these sleeves have a lightweight feel that will help you put in miles without irritation or chaffing.
If you're a runner with knee pain, take it from this Amazon reviewer: "I wouldn't have finished my half marathon yesterday if not for this awesome knee sleeve. I haven't been able to run for more than 8 miles since being race-ready over a month ago. I bought this sleeve a week before the race and immediately felt relief and support."
Best knee brace: Physix Gear Sport Knee Support Brace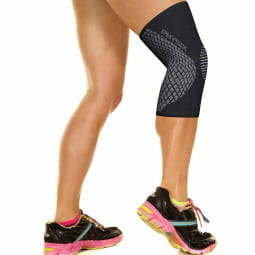 Colors available: BeigeBlackGray
Sizes available: small – XXL
Made with a no-slip silicone grip wave on the inside, these knee compression sleeves are breathable and moisture-wicking, so you'll stay comfortable even during the most heart-pumping workouts. The sleeve stays in place well and has a flexible fit. It's a great choice for anyone dealing with pain, inflammation, or injury—just be sure to check in with your doctor to make sure you're treating the pain, not just temporarily relieving it.
While this compression sleeve has nearly 18,000 five-star ratings on Amazon and overwhelmingly positive reviews, some to complain that they are a bit long for shorter legs. Our co-founder and co-ceo, Jason Wachob, also loves this brand's compression socks, which come in a variety of color ways and sizes and are comfortable enough to wear all day.
Best budget: UFlex Athletics
Pros:
Lightweight
Anti-slip and anti-itch fabric
Cons:
Hand-wash only
Not the most durable
Colors available: BlackBluePinkRed
Sizes available: small – XXL
Material: Blend of nylon and spandex plus silicone anti-slip wave
Compression level: Average
On the hunt for a budget-friendly knee sleeve that'll get the job done? This breathable and flexible knee compression sleeve is a great option for alleviating pain and swelling. Whether you're headed to the gym, the mountains, or doing work around the house, its sleek design works well under clothing. The anti-itch nylon mesh and spandex give plenty of comfort and support, without limiting your range of motion. Anti-slip wavy silicone grips line the interior, to keep the sleeve stay in place all session long.
Some people have trouble finding the correct size, with complaints that the sleeve can stretch out with use.
Best for lifting: Nordic Lifting Knee Sleeves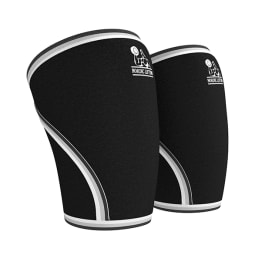 Pros:
Comes in a pack of two
Excellent customer service with 1-year warranty and hassle-free returns
Warming effect relieves stiffness
Colors available: BlackPink
Sizes available: extra small – XXL
Material: Neoprene
Compression level: Average
This two-pack of knee compression sleeves is a great choice for power lifters and crossfitters seeking extra support. They're hand-crafted from high-quality neoprene with reinforced stitching, which feels equally supportive and stretchy. The sleeves retain heat, giving a warming effect that reduces stiffness in muscles and joints, helping to alleviate knee pain.
Don't worry about these sleeves slipping down your legs in the middle of a workout, either—they're designed to stay put no matter how heavy you're lifting.
Best plus size: NEENCA Plus Size Knee Brace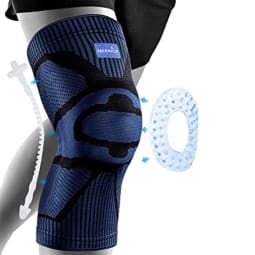 Pros:
Affordable
Plus sizing
Contoured patella gel padding
Colors available: BlackBlueGrayNudePink gray
Sizes available: 2XL – 5XL
Material: Air-knit fabric
Compression level: Average
For people seeking a plus-size friendly construction, this is a great knee compression sleeve. It offers extra support and comfort with patella gel pads, plus double-sided spring stabilizers around the knee to maximize joint stability. The 360° kneecap fit is said to disperse pressure, improve circulation, and reduce pain throughout daily activities. Use the brand's size chart to make sure you're ordering accordingly.
FAQ
Do knee compression sleeves work for arthritis?

Exercise prescribed by a doctor or physical therapist is the best intervention when managing knee arthritis conservatively. By increasing strength in specific muscles (i.e., our quads or glutes), our body can provide dynamic support to offload a painful joint, our expert explains. "If using a compression sleeve allows you to exercise and build strength to manage arthritis, use it!"
Do knee compression sleeves work for running?

Using a knee compression sleeve while running can help control swelling and provide a sense of support to mitigate knee pain. It can also be helpful in managing pain as you begin to work on your strength and balance. If a knee sleeve alters your running form, it may cause more harm than good. Runners need to make sure they are using a good-fitting sleeve.
Can knee compression sleeves cause swelling?

According to our expert, there's a lack of evidence that compression sleeves cause swelling. Rather, they are designed to help control swelling. Swanson says swelling above or below the sleeve indicates that the fit is too tight. If you are wearing a sleeve to reduce swelling and the sleeve is not helping, it is best to consult a medical professional.
The takeaway.
Many people who deal with knee pain (new or chronic) could benefit from the support and pain relief that knee compression sleeves provide. If exercising is a part of your daily routine, these knee compression sleeves can help you stay on top of your game while you address long-term solutions with a physical therapist. While you find the best knee sleeve to add to your tool kit, check out the best low-impact exercises that won't hurt your joints.